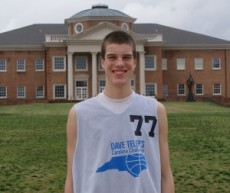 Duke already has two Plumlees on the roster but if they have it their way, a third might be on the way.  Duke officially offered Marshall Plumlee [6-11, 200 Christ School, Arden, N.C.] a scholarship to play his basketball at Duke University last evening.
"We're very happy for Marshall," said his Dad, Perky Plumlee who went on to say, "It's certainly something he'll give consideration to and as it was with my other boys, it's an honor to be recruited by Duke."
Coach Krzyzewski made the call with the offer on Monday evening, shortly after having seen Marshall during the Elite Camp held this past weekend.  Plumlee has a bevy of offers from other schools including Indiana, LSU, Notre Dame, N.C. State and many others.
We will discuss more on this breaking news on the BDN Premium message boards.  Duke has now offered to prospect in a span of 24 hours, the first being 2012's J.P. Tokoto.  We will have an interview up later.  Join BDN Premium now for information ahead of the curve.