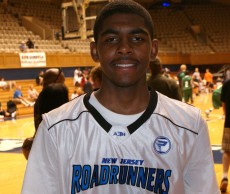 When the Duke Basketball team is led by a New Jersey point guard under Krzyzewski they win national championships, just ask former All Americans Bobby Hurley and Jason Williams.
All three of Coach K's titles had a Garden State native running the show and they are now seeking the services of a third Jersey point guard, Kyrie Irving.
If you are a Duke fan and you haven't heard that name by now, you probably don't follow recruiting closely.  If that's the case Irving is one of the premiere prospects in the class of 2010 and he's visiting Duke this weekend.
BDN has covered Irvings recruitment from the start following him during various AAU events and we can tell you first hand that Irving can play with anyone.
Duke offers Irving a situation where he can step into the point guard spot from day one, or be tossed the keys to the car to motor the team.  He's also a Duke type kid and one who by all reports gets along well with our players current and future.
The Blue Devils have made no secret that Irving is their man, following him as much as NCAA rules allows.  Coach K made it a point to be front and center whenever possible and in Orlando, Irving took notice.
The staffs of Duke, Indiana and Kentucky were all over Irving during this event and they saw Irving make an even bigger name for himself with his play.  During our then interview with the stellar prospect, Irving was all smiles when talking of Duke and he has seemingly continued to favor the Blue Devils dropping Indiana from consideration.
With the Irvings due in shortly, the excitement around campus and in the Duke community reminds me of the time Chris Duhon came in.  For those of you who were not around then, there was a literal love-fest awaiting Duhon.  While chaotic and not planned by the team, the end result was good and Duhon found a home.
The Irving visit is similar in that Duke students are more than just a little aware that a vital cog in Duke's future is in town.  Signs adorned campus as did fliers but a last minute interpretation of NCAA rulings may force them down.
Either way, the Duke staff has worked tirelessly and steadfast in their wooing of Irving and you can bet they are prepared to put their best foot forward.  If all goes as planned, Irving will find his collegiate home in Durham and the visit will make his pending decision come sooner rather than later.