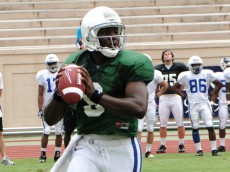 Coach Cutcliffe held his weekly press conference at the newly completed visitors locker room on Tuesday.  BDN was there and here's a recap of what was covered -
Coach pleased with morning workout - Cutcliffe praised his team for their efforts in a morning workout.  "They knew where to be on the field and executed the plays well," said Cutcliffe .   The second year coach also pointed to better team speed.
Recruiting period is hot! - Coach Cutcliffe stated that his staff could talk via phone and electronic mail starting today and that if his phone rang the media would just have to wait, for prospects were a priority.  The Duke staff will work the phones and such in an effort to land some of their high school senior targets.
High priase for Richmond - "There coming off a nine game winning streak and play 15 redshirt seniors and 7 redshirt juniors.  I don't know that I have ever faced a team with that much experience," said Cut.  Richmond returns 17 starters from last season championship team.
Rebuilding defensive depth -Duke has seven freshman (6 of them true freshman) on their two deep depth chart to start the season.  Cutcliffe mentioned that three first year linebackers would see time, those players being, August Campbell, Austin Gamble and Tyree Glover.  Two other freshman who will see lots of snaps are Zach Greene and the MVP of last season NC-SC Shrine Bowl,  Walter Canty in the secondary.
Duke is young - Coach made no excuses but did point to the number 38.  That's how many freshman are on this seasons roster making this a very, very young team.
Bowl game? - Despite the youth Cutcliffe claimed there were seniors in key positions and that they could lead the team to a bowl if everything falls right.  The coach also admitted that a few might raise their eyebrows at a bowl claim, but that he truly believed this team could make it to one.
Team Walk - Once again the team will walk through campus from the Duke Library to the stadium two and a half hours before each game.
Injuries - Young-Wiseman is out for the season.  DB Randez James has a broken hand.  Nick Maggio.
Cut wants a "Sea of Blue" - Cutcliffe wants all Duke fans to come wearing "Duke Blue," to the game.
Game Captains for Richmond announced - Firstly, Duke will name different captains for each game this season.  Four seniors, Vince Oghobasse, Thaddeus Lewis, Re'quan Boyette and Vinnnie Rey are the captains for the Richmond game.