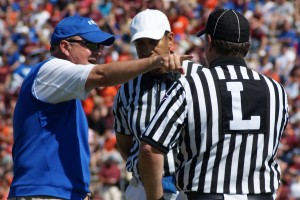 Duke will look to build on their four quarters of competing against the defending ACC Champions when they take to the field on a nationally televised game via ESPNU against N.C. State this Saturday.  The Blue Devils can ill afford any kind of let down against what is sure to be a Wolfpack team seeking to avenge a loss against Wake Forest.
While many in the media seem to have been phishing for bulletin board material asking if Duke felt they could pass on the Pack, it is important to keep in mind that N.C. State is still atop the conference in offensive production.  Much of that has to do with Russell Wilson, one of the leagues top play-makers from his quarterback position.
Wilson is almost unorthodox in his play where he seems to shift his thoughts on a dime.  Duke will attempt to mix up it's defensive looks in an effort to slow down the team which tagged Pitt for 38 points and Garner Webb for 60 plus.  That task will be hampered by the absence of Duke's second best linebacker Abraham Kromah.
This means that Duke's youth on defense will be tested at the  linebacker spots and in the secondary.  It'll be key for the secondary to get proper reads for one mistake could mean a quick score.  "Wilson is going to get his, we just have to cut down on some of the big plays," said Duke coach David Cutcliffe earlier this week.
Cutcliffe also pointed towards the N.C. State defensive front calling them better than Virginia Tech and the best in the league.  This is certainly an area for concern in that Duke has been inconsistent and looking for guys to step up on the offensive front.  This match up alone is a big reason Duke is now a 16.5 point underdog going into the game.
One thing which could offset that would be for Duke to take advantage of red zone opportunities.  While Will Snyderwine took over kicking duties connecting on 4 of 4 field goals this past week, Duke needs to turn at least half of those into scores to upset the 3-2 Wolfpack.
In the past, these two teams have played very entertaining games and Duke holds the series lead, but there is no secret that a lot of fans cannot remember Duke's last victory in that they have lost fifteen straight.  In fact, the Blue Devils are seeking a breakthrough ACC win and that's the only progress that really counts in the long run.
It will be interesting to see if Duke can continue the conferences leading passing attack against a team letting up a league low in total yardage on defense.  The game will be televised on ESPNU at 4:00.