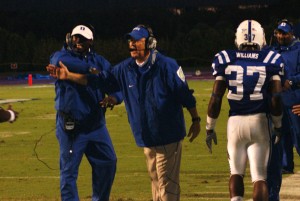 The 2009 college football season is at its halfway point, and Duke is sitting at 3-3 (1-1 ACC) with impressive wins over Army, NCCU, and N.C. State. In their most recent game, the Blue Devils traveled to Carter-Finley Stadium and defeated the Wolfpack by dominating the second half of the game. Thaddeus Lewis threw for a career high 459 yards and five touchdowns as Duke earned a huge victory to even their season record at 3-3. Coach David Cutcliffe stated, "I believe that is the finest game that I've had a quarterback have in college." That is high praise coming from a coach who has previously coached Peyton and Eli Manning in college. Lewis was named the Walter Camp Foundation's National Offensive Player of the Week and the ACC Offensive Back of the Week.
Looking forward to the second half of the season, here are four questions burning in the minds of Duke Fans around the World:
1. Can Duke build off the N.C. State victory and finish with a winning record in 2009?
With Duke's bye week coming at the season's midpoint, it is like having two six game seasons. Having achieved a .500 winning percentage over the first season, Duke Fans are looking to the team to improve during the second season. The competition will be tough as all six games will be against ACC opponents.
Based on the team's performance against Virginia Tech, Duke has proven they can compete with every team in the ACC. The games against Miami and Georgia Tech should be the biggest challenges, but the Blue Devils are favored over Maryland, and should be favored to win the game against Virginia, with the Wake Forest and North Carolina games being toss ups. The odds are actually irrelevant as illustrated by Duke's 21 point defeat of the heavily favored Wolfpack. If Duke plays inspired football, over the next six games, they are definitely capable of winning a majority of their remaining games.
How the team finishes this season is an important next step in the rebuilding of Duke Football. Last season, Duke was 4-3 after traveling to Nashville and defeating Vanderbilt, 10-7, in a thriller. However, the Blue Devils dropped five straight games to finish the season at 4-8. The coaching staff, players, and fans are all looking for a different ending this year. Achieving success over the next six games would pay dividends on the recruiting trail, which is paramount to the long range success of Duke Football.
2. Will Thaddeus Lewis break Ben Bennett's record for most passing yards by a Duke Quarterback?
Bennett threw for 9,614 yards during his career (1980 – 83). At the halfway mark of his senior season, Lewis has thrown for 8,336 yards. He needs to average 213 yards per game down the stretch to break Bennett's record.
Is breaking the record important in the big scheme of Duke Football? Yes, emphatically yes, it is. Duke is a passing team so the more yards they gain through the air the better the chances of winning games, and Duke Football needs to win games.
On the surface, Lewis breaking Bennett's record would appear to be an individual accomplishment for the senior, but actually the achievement will represent Duke Football continuing to grow as a program. It will represent the maturation of the offensive line and validate Duke's receiving corps as one of the best in the ACC. Thad Lewis breaking the career passing yards record should be an important team goal for the Blue Devils.
3. Duke's receiving corps is deep. The question is who will lead the team in key categories: total catches, yards receiving per game, and touchdown receptions?
Duke's air attack offense isn't all Lewis. Duke's receiving corps is a talented group that provides Lewis multiple options each time he drops back to pass. Currently leading the team, Austin Kelly has 30 receptions, Conner Vernon is averaging 71.4 yards receiving per game, and Donovan Varner has four touchdown receptions.
In addition to Kelly, Duke has three more receivers with more than 20 receptions on the year: Donovan Varner (27), Conner Vernon (26), and Johnny Williams (22). Those four guys are all primary targets for Thad Lewis and they will all catch many more passes this season.
Donovan Varner is averaging 71.2 yards receiving per game so he is right on Conner Vernon's heels in the yards receiving per game category. Varner and Vernon are both receivers who can make defenders miss in order to rack up the unofficial "yards after catch" statistic.
Tight End Brett Huffman and wide receiver Austin Kelly each have three touchdown receptions.
The offensive line has earned a shout-out by providing Thad Lewis enough time to deliver the ball to his receivers. Lewis has been sacked 12 times, which is tied for third fewest in the ACC. Continued improvement along the front line will be required so Duke's receivers can participate in some healthy competition between themselves to see who can lead the team in the various receiving categories with the real goal being to increase Duke's opportunity to win games.
4. Is improvement being made on Duke's defense?
With so much focus on Thad Lewis and Duke's potent passing attack, it is easy for fans to forget about the defense. We all can rest assure that Coach Cutcliffe and staff have not forgotten about the defense as defensive improvement is a vital aspect of building a winning program.
Duke has been prone to giving up the big play. It happened against Virginia Tech when Tyrod Taylor completed a 62 yard pass to Jarrett Boykin on third and 34 with the line of scrimmage at the VT 16 yard line. Instead of forcing the Hokies to punt from deep in their own territory, giving up the big play ultimately resulted in a Field Goal and a 20-13 lead for Virginia Tech.
A similar big play cost the Blue Devils a potential win over Northwestern last year.
If Duke is to win games down the stretch in 2009, the defense is going to have to pressure opponents' quarterbacks and force mistakes. Duke is currently 8th in the ACC in total defense, 12th in sacks and 9th in interceptions. Tracking these defensive categories should provide insight into how competitive Duke is over the next six ball games.
On the individual performance front, Vincent Rey is 5th in tackles averaging 8.2 per game. Catron Gainey is tied for 11th with 6.5 per game, while Abraham Kromah is 14th with 6.2 per game. Matt Daniels (5.8) and Leon Wright (5.0) are also in the Top 50. Moreover, Matt Daniels leads the ACC in fumbles forced and Leon Wright is 3rd in interceptions.
In the sacks and tackles for loss categories, Duke has no one in the Top 20. Increasing pressure in our opponent's backfield has to be a focus area for improvement.
The next six weeks are a potential boon in the revitalization of Duke Football. The team is improving their on field performance week by week, the fan base is excited, and opponents are taking the Blue Devils seriously. The time has arrived for Duke to put together a conference winning streak.
The second six week season kicks-off Saturday October 24th at Wallace Wade Stadium with a 1:30 pm game against Maryland. The Blue Devils are currently favored by eight points over the Terps. Tickets are still available so the Blue Devil Nation encourages everyone to come out and participate in the festivities.