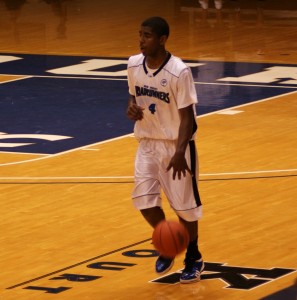 Duke got it's point guard of the future when Kyrie Irving decided to make the Blue Devils his collegiate choice on ESPNU just minutes ago.
"Im pleased to announce I will be attending Duke University," said Irving.
When asked what the main factor in his decision was. Irving said, "Just my relationship with Coach K and the whole staff.  It was a great mix of academics and athletics.  On my offcial visit, it just felt like home."
Irving will join  6-8 forward Josh Hairston and 6-2 point guard Tyler Thornton as true freshman in the class of 2010.
Irving, one of the nations top point guard prospects. picked the Blue Devils over Indiana, Kentucky and Texas A & M.
The New Jersey native is a vital cog in the Blue Devils future plans and he'll be given the wheel to the ship from day one.
Irving visited the Duke campus with his Dad and Uncle and played pick up with the current players while on his official visit and that successful weekend pretty much sealed the deal.   Duke students cheered his name during a football game against N.C. Central where he hung out with rising senior Lance Thomas.
Irving plays his high school basketball for powerful St. Patrick's and he dressed for the New Jersey Celtics and the New Jersey Roadrunners on the AAU circuit.  In Orlando, he led his team to back to back victories over the circuits two best teams, scoring 65 points in the process.
The rising high school senior had some of his best games of the summer circuit during the AAU Nationals where Coach K and his staff watched his every move.  For more on his summer exploits, just check out the BDN archives.
It's worth noting that two other jersey point guards in Bobby Hurley and Jason Williams led Duke to all three of Duke's National titles under Kyzyzewski.
Coach K bonded well with Irving during the process and the Devils made it clear that he was their point guard of choice.  Duke Assistant Coach Chris Collins was the lead assistant with Irving.
With Irving in the fold, Duke will now turn their attention to Harrison Barnes and other prospects.  More on this on the Blue Devil Nation Premium message board.  And more on Kyrie Irving as next week progresses.
Irving's commitment starts off a huge sports weekend at Duke where they will entertain Harrison Barnes and play Pfeiffer at 6:30 on Saturday.  Duke also plays a huge football game at 1:30 versus Maryland.  So, if you are local, this is a great time to support the Devils in person.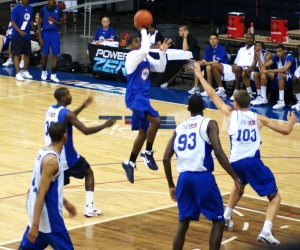 Andrew Slater's Scouting Report on Kyrie Irving - Kyrie Irving is a 6'2" scoring point guard from St. Patrick's of Elizabeth, New Jersey. He has the prototypical size and demeanor to lead a college program to the highest levels. He is a classic example of a scorer with a shooter's touch.
Irving can change pace well, has an above-average and improving handle, and a good sense of spacing. Irving can get to the basket at will against most quality guards and possesses a very good crossover that he utilizes in transition and particularly against half-court pressure. He's got a quick release with three point capability, but there are stretches when his long distance shot is flat. Irving takes few "bad" or ill-advised shots for a kid his age and his court vision is quite good. Irving is a very good mid-range shooter with a quality release and is more than capable of coming off of a screen and knocking down shots on either elbow or through the bank shot. He is also an excellent foul shooter, which would've been beneficial in close, late game possessions, but, for St. Patrick's sake, they were only in one close game after Irving joined the team.
Although a work in progress, Kyrie has become a more intense defender, who takes calculated and opportunistic gambles for steals on defense, in particular, using his good, but sometimes underrated athleticism to anticipate errant or lazy passes . Given his tendency to take the ball to the rack, he needs to add muscle to withstand the rigors of a long and physical college season, but, at the high school level, he has been able to consistently deal with the punishment that his relatively thin frame takes from attacking and finishing in the lane, as frequently as he does. Irving worked on assuming more of a leadership role for his AAU team, the Roadrunners, in preparation for his upcoming senior season with the Celtics of St. Patrick's. He is capable of finishing above the rim in transition, but, in traffic, relies on floaters, finger rolls, and is both skilled and ambidextrous around the rim. The NJ guard has a very high basketball IQ, is a considerate teammate, and is quite attentive and coachable.