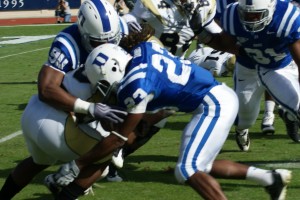 It's Senior Day at Wallace Wade Stadium, as the Wake Forest Demon Deacons (4-7, 2-5 ACC) travel to Durham on Saturday to take on the Duke Blue Devils (5-6, 3-4 ACC) in the 2009 season finale. Fifteen Blue Devils Seniors will be honored for their contributions to the program. The game will be televised by Raycom Sports with kickoff scheduled for noon. Tickets are still available through the Duke Ticket Office at (919) 681-BLUE and goduke.com for a special price of just $15 each.
SCOUTING THE BLUE DEVILS (5-6, 3-4 ACC)
Last Time Out
Duke enters their final contest of the 2009 season on a three-game losing streak, after starting the ACC season at 3-1. Last week's loss came at the hands of the Miami Hurricanes at Land Shark Stadium, as the Blue Devils saw a 16-10 second half lead slip away into a 34-16 defeat. The Hurricanes scored 24 unanswered points to close the game, including a 44-yard touchdown from Miami QB Jacory Harris to WR Leonard Hankerson and a 73-yard interception returned for a touchdown by LB Daryl Sharpton.
In the loss in his hometown, Duke senior QB Thad Lewis set the Duke all-time career passing record completing 20/37 passes for 301 yards with 1 touchdown and 1 interception.  Lewis passed Ben Bennett in the Duke record books with 9,678 career yards and now holds 48 Duke career, season, and single-game records. Sophomore receiver Donovan Varner set a career high with 165 yards on 8 catches and a touchdown. Duke again struggled to run the ball, totaling just 55 yards rushing, with freshman Desmond Scott and sophomore Jay Hollingsworth splitting carries.
As has been the case in Blue Devil losses this year, third down conversions played a crucial role. While the Blue Devils were just 3 of 12 on third downs, the Duke defense allowed the Hurricanes to convert 14 of 21, including several key receptions by former Miami basketball player-turned tight end Jimmy Graham.
Season
After a 5-3 start, Duke has gone winless in November and was eliminated from bowl contention with last week's loss in Miami. Duke has been led all season by the arm of Thad Lewis, the sure hands of his young receivers, and timely defense. The Blue Devils rank first in the ACC in passing offense, with Donovan Varner, Austin Kelly, and Conner Vernon all ranking in the top ten in the conference in receptions. The Duke defense, led by seniors Vincent Rey and Catron Gainey, who both rank in the top ten in the ACC in tackles, has held opponents to under 20 points five times this season. Duke has been one of the most disciplined teams in the ACC, ranking second in the conference with only 5 penalties per game and compiling a +3 turnover margin on the season.
Thad Lewis and Vincent Rey were named 2009 season captains this week, voted on by their teammates. Their leadership on the offensive and defensive sides of the ball has put the Blue Devils in position to finish the season at .500 for the first time since 1994.
Seniors
Blue Devil Nation thanks this year's senior class for their hard work and invaluable contributions to the Duke football program. After winning just 1 game during their first two years in Durham, the Blue Devils have won 9 games during their final two seasons.
"This group has endured some difficult times," said head coach David Cutcliffe. "Thank goodness they've been able to celebrate some good times. Their contribution to Duke football will be more significant over a period of time, because it's not just what you do on Saturday. It's not even what you do on the practice field alone, and they've done well there. But they've gotten high marks in their conditioning work, their summer passing work that they set up and organized themselves and in their commitment to excellence, academically and socially."
QB Thaddeus Lewis
DT Vince Oghobaase
LB Vincent Rey
RB Re'quan Boyette
OG Jarod Holt
DE Ayanga Okpokoworuk
CB Leon Wright
S Catron Gainey
NG Kinney Rucker
LB Jordan Baltes
We wish these seniors the best of luck as they complete their degrees and begin their respective careers, both on and off the gridiron.
SCOUTING THE DEMON DEACONS (4-7, 2-5 ACC)
Last Time Out
The Demon Deacons come into Durham off a much-needed bye week, having lost five straight games prior to the bye. Their last lost, to Florida State at home, eliminated the Demon Deacons from bowl contention for the first time in QB Riley Skinner's career. The Seminoles racked up 437 total yards in the 41-28 victory, including 220 passing yards by second-string QB E.J. Manuel, starting in place of the injured Christian Ponder. The Demon Deacons totaled 454 yards on offense themselves, including 227 yards rushing on just 29 carries (a 7.8 yards per carry average). Senior QB Riley Skinner, who ranks 6th all time in the ACC in passing yards, threw for 227 yards on 25/40 passing, including 1 touchdown and 2 interceptions.
After the loss, a visibly-emotional Skinner said, "It's just crazy to think about. It's been 4 1/2 years and I never thought it would come to an end like this."
Season
After three straight bowl appearances, the 2009 campaign has been a disappointment in Winston-Salem. It's the story of what could have been, as five of the Demon Deacon losses have been by a total of 13 points, including overtime losses to Boston College and Coastal Division Champion Georgia Tech.
Wake Forest ranks fifth in the ACC in total offense, averaging 132 yards on the ground and 262 yards through the air. QB Riley Skinner is second in the conference in both touchdowns with 21, and completion percentage with 65.2%, on the year. His favorite targets have been Devon Brown and Marshall Williams, both with over 50 receptions this season. The Wake Forest rushing attack is led by Josh Adams and Brandon Pendergrass, who average an impressive 4.8 yards per carry between them. The Demon Deacons have a -5 turnover margin, having forced only 14 turnovers through 11 games and giving up over 375 yards of offense to opponents.
INJURY REPORT
Key players appear on the injury report again for the Blue Devils, including three seniors. Thad Lewis is expected to play despite lingering leg injuries. His health will be essential for a Blue Devil victory with backup QB Sean Renfree out for the season with a torn ACL. Redshirt-senior RB Re'quan Boyette remains questionable, as does redshirt-senior DT Vince Oghobaase, both with leg injuries. Sophomore WR Johnny Williams is listed as questionable with a knee injury suffered against Georgia Tech two weeks ago.
The Demon Deacon injury report was not made available; however, their secondary has been depleted all season and will be again on Saturday. Sophomore safety Josh Bush, who has started six games this season, will be out on Saturday after complications from a bruised collarbone required surgery to remove a blood clot. With two true freshmen redshirting this year and with injuries or suspensions to other key members, the Demon Deacon defense will be thin in the season finale.
CLOSING THOUGHTS
Two of the top ten most prolific passers in ACC history square off in Durham on Saturday. Both Riley Skinner and Thad Lewis will be looking to close their historic collegiate careers with a victory.
Jim Grobe is 8-0 against the Blue Devils during his time at Wake Forest and with an extra week to prepare, Grobe and his staff will have the Demon Deacons ready to play. While Wake Forest has worked hard to establish the run in recent weeks, Grobe will likely put the ball in Skinner's hands in his final game in black and gold.
The same will be the case for the Blue Devils, who will look for Thad Lewis to put up his record-setting 11th career 300-yard passing game, with 10,000 career passing yards in sight. If the offensive line can buy Lewis enough time against a blitzing Demon Deacon defense, his receivers should find open space downfield against a thin secondary.
With both teams, the margin of error has been small all year, and the team who executes consistently in all three phases of the game with the fewest mistakes will finish the 2009 season victorious. For the Blue Devil faithful, Saturday will be an emotional day as we say good-bye to a resilient senior class led by #9. Win or lose, the Duke program is much improved thanks to their contributions.