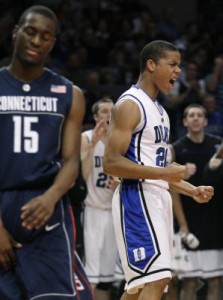 BDN will have more coverage to come but until then, here is Coach K's post game comments-
MODERATOR:  Coach will make an opening statement and then he'll take questions.
COACH MIKE KRZYZEWSKI:  It's a big‑time game.  Shots were so hard to come by.  Open shots.  Both teams are very, very good defensively.  And you know, you get by one guy and you can't ‑‑ it's hard to get to the bucket.  You know?  And we've not experienced a team like that this year.
But we rebounded very well.  We played outstanding defense.  And I thought Thomas and Zoubek were the difference‑makers for us.  Because I mean they both had 11 rebounds.  And Zoubek I thought had the biggest play in the first half where he got the offensive rebound and kicked it out to Singler for a 3 because points were tough to come by.  And in the second half he got one, and I don't know how he got it out to Scheyer in the corner.  He got it through about four guys and Scheyer hit that 3.  And so on two of his offensive rebounds we got 6 points.
We didn't give up a 3 today.  So when you get two possessions in this game, where you get 6 points, that's a lot.  We missed 53 shots and we had 56 rebounds.  You know, that's a very unusual game.
But it's a game where both teams played with a lot of heart and we feel very privileged to have won this game and the NIT Championship with the Carlesimo name on it.  The Carlesimo family is like family to me and my family.  The trophy is named after one of the great, great men in college basketball history.  So it was nice to see Lucy.  We call her "Lucia" from the Barcelona Olympics.  That's a good thing.
Any questions.
Q.  Doug Gottlieb called your team alarmingly unathletic.  Did you think today answered that question pretty emphatically?
COACH MIKE KRZYZEWSKI:  He should be an expert on alarmingly non‑athletic.  So I'll have to take a look at that a little bit closer because it comes from an expert who actually knows what it feels like to be alarmingly non‑athletic.
Actually, we're pretty athletic; we're just not as athletic as Connecticut.  Singler is a really good athlete.  Lance, Miles.  Jon is not leaping tall buildings with a single bound but he's a real good athlete.  But I wouldn't call us like this athletic team, but we're not amazingly non‑athletic.  And I would rather not get into a discussion with Doug because I have respect of his stature and he should have his arguments with people of similar stature.  That would be a good thing.
Q.  Stopping the transition was obviously a key.  How did you do that in the first half?
COACH MIKE KRZYZEWSKI:  Well, we didn't for a while.  Walker, he's a jet.  We had Wojo scout for this team and I said, "You said he was quick, you didn't say that he was that quick."  And we adjusted our defense.  What we normally do with a point guard like that is try to corral him at half court with the second big, you know, just to hold him back.  And we couldn't get back in time to do that.  So after the first TV time‑out, instead of 21 which is our half‑court defense, we went top of the key 11 and just said, "Get back.  Don't worry about corral."  Everybody is responsible for corralling him, and I thought the rest of the game we did a fairly good job of it.
Q.  25 offensive rebounds on a team like UCONN with their size and athleticism; what do you chalk that up to?
COACH MIKE KRZYZEWSKI:  Well, we're big too.  Non‑athletic but very big.  And so ‑‑ Zoubek and Thomas were huge.  We do run sets where our perimeter guys take shots.  They took a lot of shots and they should take lot of shots.  Our big guys are accustomed to know when those guys take their shots.  So we've been working a lot on trying to position ourselves in places where we might get that reshot.
Q.  Did you notice anything as far as UCONN leaking out early?
COACH MIKE KRZYZEWSKI:  They did.
Q.  Was that something you could take advantage of?
COACH MIKE KRZYZEWSKI:  I didn't think we could take advantage of ‑‑ I just didn't want ‑‑ they beat us a couple of times early.  They blew by us for about six minutes.  And then we knew ‑‑ we knew we shouldn't fast break, try to fast break with them the whole game unless we got a turnover.
Q.  Meaning that if they're going ‑‑
COACH MIKE KRZYZEWSKI:  No, no, we have an extra guy on the boards to crash.  We discussed that.  But I don't think that was ‑‑ the guys who got the most offensive rebounds were the guys that had on their bigs.  They almost made some big plays.  We couldn't put the ball back in the basket.  A lot of it has to do with their shot‑blocking ability.
Q.  In the second half, especially in the second half, even when their guards would get into the lane, can you talk about your help defense?
COACH MIKE KRZYZEWSKI:  That's again the big guys were coming over.  And at least if they didn't take charges, they were trying to take charges, they got a few blocks.  But they distracted the shooter.  Kind of like how they did to us.
I thought shooters in the lane today was not a good place to shoot the ball.  You know, there was a lot of distractions defensively being made by both teams for those shooters.
Q.  Can you talk about Jon Scheyer's game?  19‑5‑5.
COACH MIKE KRZYZEWSKI:  Jon is a terrific player.  He's a terrific basketball player.  He has a great feel for the game.  And because he's almost an automatic free‑throw shooter, he's dangerous especially at the end of the game.  He values the ball.  And although he's not making a lot of great passes, he's not making hardly any turnovers.  And he makes simple passes and I think ‑‑ now he has four turnovers for the year.  He's the most important player we have, Jon is.  Just because he has to have the ball so much.
Q.  Kyle, 2‑of‑12, 6 points, he shoots 29 percent.  I told you those numbers coming into the game.
COACH MIKE KRZYZEWSKI:  I would have been very worried or mad at you.  I would have told you to go talk to Doug Gottlieb.  You don't have to do that by the way.  I won't punish you like that.
Kyle made two bad fouls.  I think the nature of the game he slapped down twice and he just can't do that.  From then on, we're massaging the game and then he gets three.  And so you talk ‑‑ I hate to talk with words like "flow" ‑‑ he never got in the rhythm of the game.  He never got in the rhythm of the game.  But still, defensively he was on Robinson.  I mean, they kind of negated one another.  Robinson ‑‑ their perimeter is very, very athletic.  Robinson is a big‑time athlete.
Q.  When you win a game like this, do you leave here feeling pretty good?
We'll have more on the game a bit later but here are Coach K's post game comments.
COACH MIKE KRZYZEWSKI:  Oh, yeah, we feel great.  We played against two different types of teams and two teams that I think are going to be in contention in their conference coverages.
We're still missing one of our kids.  Mason Plumlee who I think will be a big addition to our team.
The other kid I want to mention is Andre Dawkins.  Both of these games he didn't play like a freshman.  He was very, very good, very good in both games.  And that gives us a little bit more depth on the perimeter.
THE MODERATOR:  Last question?
Q.  What kind of role do you foresee for him as this develops and he gets more experience?
COACH MIKE KRZYZEWSKI:  He got good time today.  He's playing behind our three best players.  So the fact he's going to be the first guy off the bench.  He can play off those guys because he's as good a shooter as we have.  And then if we ever did want to go small and put Kyle at the four, he could be ‑‑ we did have that lineup in for a little bit.
But then the fouls ‑‑ actually, we got a big bucket when we had Kyle at the four.  And then we got in foul trouble and we had to get away from it.  Andre has been really good for us.
Thank you.