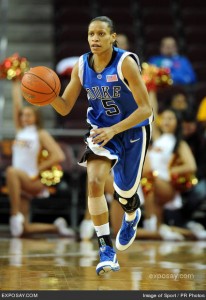 Follow Duke women's basketball on Twitter.  Click here for more information and to sign up head to Twitter.com.  All Blue Devil fans can also become a fan of Duke Women's Basketball on Facebook.  Click here to join the Official Duke Women's Basketball Page.  If you are not signed up on Facebook, just head to http://www.facebook.com and then click here to join the "Official Duke Women's Basketball Page."
Georgia Southern (1-0) at Duke (1-1)
Nov. 19, 2009  •  Durham, N.C.  •  Cameron Indoor Stadium (9,314)
Media Information
Tip-off: 7:00 p.m. (EST)
TV: None
Radio: Duke ISP Network - 620 The Buzz with Steve Barnes (PBP), Morgan Patrick (Color)
Twitter: DukeWBBSID & CoachPDuke
Facebook: Official Duke Women's Basketball Group
Rankings: Duke (No. 11 - AP, No. 12 - ESPN/USA Today)
Series: Tied 1-1
Head Coaches:  Duke: Joanne P. McCallie (369-165, 18th Season)
Georgia Southern: Rusty Cram (201-178, 14th Season)
Blue Devils to Host Georgia Southern on Thursday in Home Opener...
After opening the season with two road contests, the 11th-ranked Duke women's basketball team (1-1) will host Georgia Southern (1-0) at 7:00 p.m. on Thursday, Nov. 19, in the 2009-10 home opener at Cameron Indoor Stadium.  The first 1,000 fans in attendance on Thursday will receive a free women's basketball schedule magnet.
Duke is ranked No. 11 in the Associated Press and No. 12 in the ESPN/USA Today Division I Coaches Polls.
The Blue Devils will remain at home against Charlotte on Monday, Nov. 23 at 7:00 p.m., before traveling to Cancun, Mexico for the Caribbean Challenge from Nov. 26-27.
Noting Duke...
The Blue Devils return two starters off a squad which posted a 27-6 overall record and received a No. 1 seed in the NCAA Tournament a year ago ... Duke returns five student-athletes who started at least two games in 2008-09 ... Duke returns 58.5 percent of its scoring and 63.3 percent of its rebounding from a year ago ... junior Jasmine Thomas returns as Duke's top three-point shooter as she hit 28 treys ... as a team, Duke returns nine players and eight of the nine hit at least one three-pointer last season.
A Look At Georgia Southern...
Georgia Southern enters Thursday with a 1-0 record after defeating Brewton-Parker in the season opener on Nov. 13 by a score of 96-44.  The Eagles are coached by Rusty Cram, who enters his 14th year with GSU.  He owns an overall record of 201-178.  Georgia Southern returns three starters and 10 letterwinners off last year's squad, which posted a 16-14 record.
Returning starters for the Eagles include, Jessica Geiger, Jamie Navarro and J'Lisia Ogburn.
The Series With Georgia Southern ...
Duke and Georgia Southern will meet for the third time in school history on Thursday.  The series is tied, 1-1, with the last meeting coming on Dec. 21, 1984.
The meeting in 1984 was in the USF Holiday Classic in Tampa, Fla., with Duke winning 71-65.  The other contest came on Jan. 9, 1982 in Statesboro, Ga., with the Eagles winning 64-58.
Storylines/Other Blue Devil Notes...
•  Duke is averaging 18.5 steals a game through two contests so far. The Blue Devils are also playing big on the boards outrebounding opponents, 54-33 (+21).
•  The 95 points allowed by Duke at Texas A&M on Nov. 15 was the most allowed by a Blue Devil team since the 104 points Connecticut scored on Nov. 13, 1998. The 56.9 field goal percentage by the Aggies on Sunday was the highest allowed by Duke since Florida State shot 57.4 percent on Feb. 4, 2004. The game broke Duke's 51-game ACC winning streak.
•  In the season opener on Friday, Duke scored 104 points and won by 69 points at Houston Baptist University. The 104 points was the most scored under a team led by Joanne P. McCallie at Duke and the 69-point win was the largest margin of victory for a McCallie-led Blue Devil squad. The Blue Devils also hit 55.7 percent from the field, which is the second-best field goal percentage for a Coach P led Duke team. The high was 56.0 percent against Virginia on March 6, 2009 in the ACC Tournament.
•  The Blue Devils registered 26 steals at Houston Baptist, which was two steals shy of matching the Duke school record. The record is 28, which came against UNC Greensboro on Nov. 18, 2007.
•  Sophomore Shay Selby saw her first action of the exhibition season on Sunday, Nov. 8 against Alaska Anchorage. She played eight minutes in the game. Selby is recovering from offseason knee surgery as well as mono in the preseason. She came off the bench to net seven points, two rebounds, two assists and one steal in 10 minutes at Houston Baptist on Friday night.
•  Senior Keturah Jackson was cleared for action as the Blue Devils opened the season on Nov. 13. Jackson came off the bench and played 17 minutes at Houston Baptist and was impressive. She scored eight points, had four steals, two rebounds and two steals, while hitting 3-of-4 shots from the field. She had shoulder surgery over the summer and has been going through rehab. Jackson was able to practice the last couple of weeks with light contact.
•  The Coach P Radio Show will next take place on Tuesday, Dec. 1 at 6:00 p.m. The show will be stationed at Satisfaction Restaurant in Durham at Brightleaf Square. Make sure you get there early to secure a seat.
•  Follow DukeWBBSID on and CoachPDuke on Twitter to get the latest updates on Duke women's basketball.  Also, join the "Official Duke Women's Basketball Group" on Facebook to get the latest video, pictures and more.  Join both now as they are free!  You can win free prizes each week on both Twitter and Facebook so make sure you follow closely.
Home Openers...
Duke has won 18 straight home openers, after falling its first two in 1975-76 and 1977-78.
Thomas Fires Away At A&M...
Junior Jasmine Thomas registered a career-high 26 points at 16th-ranked Texas A&M on Sunday.  The Fairfax, Va., product hit a career-high four three-pointers, attempted a career-high and school record 14 three-pointers and attempted a career-high 28 shots.
In the contest, Thomas also pulled down nine rebounds, three assists and three steals in 38 minutes.
Through two games on the year, Thomas is averaging 16.0 points, 6.5 rebounds, 4.5 assists and 4.0 steals.  Of the five three-pointers Duke has hit on the season, Thomas has made four of those.
Duke Versus the Southern Conference...
Duke has played against eight teams in the Southern Conference, winning 35 out of 50 games. The last meeting with a Southern Conference team resulted in an 84-39 win for the Blue Devils as they faced UNC Greensboro in Cameron Indoor Stadium on Nov. 18, 2007. Duke owns a 25-game win streak against Southern Conference teams with the last loss coming in 1982, Georgia Southern, 58-64.
Thomas Impressive in First Collegiate Start...
Junior Krystal Thomas made her first collegiate start at center for the Blue Devils on Nov. 13 at Houston Baptist University.  A product of Orlando, Fla., Thomas had played in 63 career contests without a start before Friday.
In the game, the 6-5 Thomas registered her fourth career double-double with 14 points and 12 rebounds to go along with three blocked shots in 20 minutes.  She hit 7-of-10 field goals on the night.
Thomas is hitting a team-best 76.9 percent of her field goals in two games (10-of-13).  She leads Duke with six blocked shots and an average of 8.5 rebounds.

Blue Devils Open on the Road...
For the second time in three years under the direction of Head Coach Joanne P. McCallie, the Blue Devils opened the season on the road.  During her first year in 2007-08, McCallie and the Blue Devils opened the season with a 57-37 victory at Denver.
Duke also opened with two consecutive road contests for the first time since the 2005-06 campaign when the Blue Devils played at Penn State and at Old Dominion.  The Blue Devils came away with a 93-67 win at PSU and a 93-56 victory at ODU.
Thomas Selected Naismith Candidate...
Duke junior Jasmine Thomas has been named one of 50 preseason candidates for the Naismith National Player of the Year trophy.
The watch list was compiled by the Atlanta Tipoff Club's Board of Selectors, which based its criteria on player performances from the previous year and expectations for the 2009-10 college basketball season. The Naismith Trophy presented by AT&T will be awarded at the 2010 NCAA Women's Final Four in San Antonio, Texas.