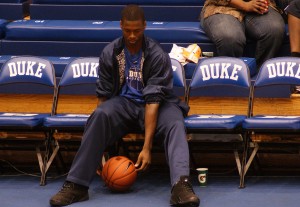 Duke plays the seventh ranked football team in the country tomorrow and Duke Basketball opens their season tonight yet neither event is casting as big a shadow as Harrison Barnes pending decision.
The nations top rated prospect ends the speculation just after 4:00 est today on ESPN-U.  For those who cannot follow via ESPN-U, here is a link to a live steream via the Internet.
BDN will chime in just before covering tonight's basketball opener versus UNC-G in a game that tips off at 7:00 on FSN.
We also encourage Duke fans and students to turn out for tomorrow's Georgia Tech game which kicks off at 7:00.  All military personnel and veterans receive four free tickets by showing their ID's.
Barnes decision is about four hours away now and fan bases from all the schools involved are tied in knots from anticipation.  This is a rare decision that has not been leaked by media members, meaning a kid will announce on his terms.
Stay tuned for updates -