Durham, N.C. - The seventh rated Georgia Tech Yellow Jackets ran roughshod over the Duke Blue Devils in route to a 49-10 victory.  The win pushes Tech's record to 10-1.  With the win Tech wrapped up the Atlantic Coast Conferences Coastal division, and they'll play in the  ACC Championship game.
Duke lost their second consecutive ACC contest which dropped their overall record to 5-5 and conference record to 3-3.
Georgia Tech's methodical running game wore the Blue Devils down and big plays enabled the Jackets to coast after being down 7-0 early.  The Yellow Jackets generated a whopping  519 yards of offense.
All American tailback Johnathan Dwyer scored two touchdowns while gaining 110 yards and Josh Nesbitt went 7 of 11 through the air for 195 yards and two touchdowns.
"We should have had a couple of other big plays.  It was good that a lot of guys got to play," stated Paul Johnson n a rather smug manner.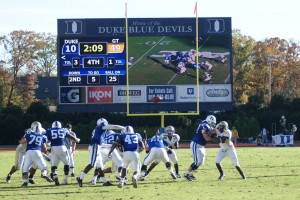 The Blue Devils gained 281 yards on offense, struggling for a second straight week to put significant points on the board.  In all honesty, there were few bright spots for Duke as the game went on.
Thaddeus Lewis threw one touchdown to Re'Quan Boyette and ended the game with 212 yards passing.  Desmond Scott got the start at running back and led Duke in rushing with 26 yards, but added 45 more yards on 5 catches.
Coach David Cutcliffe summed it up by saying, "Momma said there would be days like this and she was right."
The real problem for Duke besides getting back into the groove on offense are the mounting injuries.  Austin Kelly and Johnny Williams both went out with undetermined injuries and back up quarterback Sean Renfree may have suffered ligament damage.  His injury will force Duke to look for another quarterback in practice this week in that they will not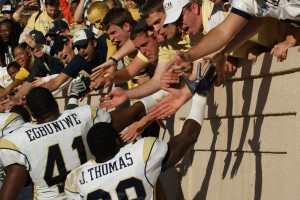 burn Sean Schreoder's redshirt.
Duke next travels to Miami and then plays their final home game of the season against Wake Forest on November 28th.