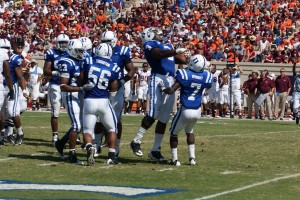 DURHAM, N.C. -- Duke redshirt senior defensive tackle Vince Oghobaase has been selected to play in the 85th East-West Shrine Game on January 23, 2010 in Orlando, Fla.  The contest will kick off at 3 p.m. and be televised live by ESPN2.
A 6-5, 305-pound native of Houston, Texas, Oghobaase has played in and started 42 games for the Blue Devils over the past three-plus seasons.  An All-ACC pick in 2008, his career totals of 13.0 quarterback sacks and 34.5 tackles for loss rank fifth and seventh, respectfully, on Duke's all-time charts.  In 2009, Oghobaase has been credited with 26 tackles, 5.5 tackles for loss and 1.5 sacks as the Blue Devil defense ranks fourth in the ACC and 33rd nationally in total defense.
Oghobaase becomes the 35th Duke player to be chosen for the East-West Shrine Game, joining Elmore Hackney (1937), Ace Parker (1937), George McAfee (1938), Willard Perdue (1938), Tony Ruffa (1940), Ernest Beamer (1943), Al DeRogatis (1948), Bob Pascal (1955), Sonny Sorrell (1955), Wray Carlton (1958), Mike McGee (1959), Jack Wilson (1961), Jay Wilkinson (1963), Mike Murphy (1967), Wes Chesson (1970), Leo Hart (1970), Steve Jones (1972), Ed Newman (1972), Dave Meier (1975), Billy Bryan (1976), Mike Sandusky (1977), Lyman Smith (1977), Carl McGee (1978), Chris Castor (1982), Phil Ebinger (1983), Mike Junkin (1986), Dave Colonna (1989), Robert Baldwin (1994), Ray Farmer (1995), Tawambi Settles (1997), Ryan Fowler (2003), Drew Strojny (2003), Alex Green (2005) and Michael Tauiliili (2008).
Oghobaase

joins an elite list of football greats, such as John Elway, Tom Brady, Brett Favre, and 62 NFL Hall of Famers, who have played in the
East-West Shrine Game, America's longest-running college all-star football game.
"The East-West Shrine Game has always fielded players among college football's best," said East-West Shrine Game Executive Director Jack Hart. "With all 32 NFL teams represented by GMs, coaches and scouts during game week, our players have the terrific opportunity to showcase their talents and get their first glimpse of life in the NFL … 'Just Like on Sunday.'"
While the teams are divided by East and West, the players come together for the beneficiary of the event, Shriners Hospitals for Children, an international pediatric specialty health care system.
"We hope our supporters all over the country will come out and enjoy this exciting game," said Douglas E. Maxwell, president and CEO of Shriners Hospitals for Children. "Our health care system depends on the generosity of our supporters, and this game is one of our signature events – all proceeds benefit Shriners Hospitals for Children."