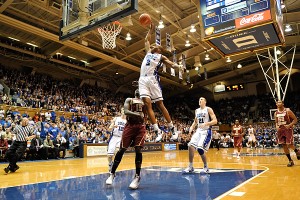 Durham, N.C. - On a night when Duke 14-2, 2-1 in the ACC] hit a single three point shot one would think they may have lost the game, but that was far from the case in 79-59 win over Boston College.
After the two teams played an almost identical first half in statistics and score, Duke outscored the visiting Eagles 15-2 to start the half.
The Blue Devils defense simply held the Eagles in check and if it were not for Krzyzewski clearing his bench, they would have scored a lot less than the 24 points they put up.
Nolan Smith led the way for Duke with a team high 24 points [tied his career high] to go with his 4 assists.  Smith made several key buckets to keep runs alive on a night when Scheyer was off by his standards.
"Beginning of the second half, we started with defense.  We were able to execute the play that we drew up at halftime.  Miles got a dunk right off the bat that keyed our defense," said Smith after the win.
Scheyer still ended the contest with 12 points, but he was just 1 of 6 from the three point stripe.  But considering he had Duke's only three, the Blue Devils won the old fashioned way on two point buckets.
The aforementioned Miles Plumlee played his best half of the season and he ended the game with 12 points total, ten in the first half.  After his 5 of 6 shooting from the field, he leads the team in field goal percentage.
When asked of his thunderous dunk to open the half, Plumlee said, "I felt great after the shot.  I know I can make those plays all the time and I can make other plays that I haven't made yet.  I just need to keep doing it in practice and it will show up in games for me.
Singler had a double-double with 15 points and 10 rebounds and interestingly, he got it going after his fourth foul which was a technical.
The game was heated at times and the refs let the two teams play for most of the game and there is a bit of a chippy history between the two teams.
Flying under the radar were Brian Zoubeks 11 rebounds to go with his 6 points.
Duke benefited from points off defense outscoring Boston College 15-4 on the fast break and held a 17-10 edge on points off turnovers.  The royal blue also outrebounded the Eagles by a 40-27 margin.
Duke will next take on Wake Forest at 8:00 on Sunday evening.
Stay tuned for the Blue Devil Nation Locker Room Report where you will hear from Scheyer, Singler, Smith and Miles Plumlee.
Join BDN Premium for behind the scenes coverage.