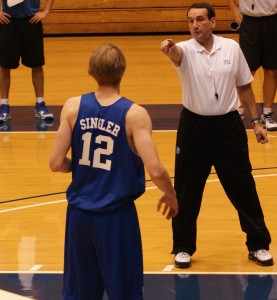 It's almost hard to believe that there are just twelve regular season games left for the 2010 Duke Blue Devils Men's Basketball team.  When the Blue Devils take to the hardwood against Florida State tonight in Cameron Indoor Stadium, the outcome is of dire importance.  But, then again, they are all important for the team is entering the stretch run, one that will sort out the standings before the tournaments begin in a mere 42 days.
Duke will have five more home games after tonight's clash with the Seminoles and it's no secret that teams must protect the home court in the balanced ACC this season.  The lone non-conference home game left is with Tulsa in a contest likely scheduled to simulate a first round type match up against a mid-major.  After that, four conference foes in Georgia Tech, Maryland, Virginia Tech and North Carolina come to Durham.
But despite the importance of tonight's home game, the picture will likely shake out for the Blue Devils on the road.  After a stunning loss to N.C. State on a night when the Wolfpack shot lights out, Duke righted the ship by defeating Clemson on the road in one of their grittier efforts of the season.
Greg Monroe and Georgetown are on the schedule for this Saturday and that will be a war in D.C.  This game could have seeding implications, but then again so could any of them.  Still, one must admit that the Hoyas and Blue Devils are a marquee match-up smacking of an NCAA atmosphere.
The Blue Devils will later have two consecutive ACC road games twice and Miami sandwiched in between.  The first of the two are early February match-ups at Boston College and arch rival North Carolina.  Later, in late February and early March, Duke travels to Virginia and Maryland before the Senior Day finale against the Tar Heels in a game that will see Brian Zoubek, Lance Thomas and Jon Scheyer's farewell to Cameron Indoor Stadium and home fans.
So, it's time to beam in and pay attention folks for this is the thick of the college basketball season, one which fans point to year round and there are just 12 regular season games to go.   It should be fun to watch and see how this team develops as each game becomes a war.
While looking ahead can be fun, taking them one at a time is the way this Duke team will approach these games.  That's fine by me for sometimes you can blink and it seems like the season is twenty games old and after tonight's key home game against Florida State, the season is indeed twenty games old.