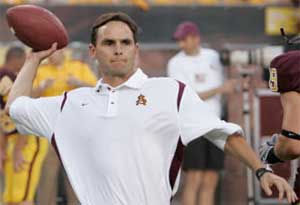 DURHAM, N.C. – Duke University head coach David Cutcliffe announced on Tuesday the hiring of Matt Lubick to the Blue Devil football staff.  Lubick, who spent the last three seasons on the staff at Arizona State, will serve as Duke's Passing Game Coordinator and Recruiting Coordinator while coaching the Blue Devil wide receivers.
"We couldn't be more thrilled with Matt joining the Duke Football family," Cutcliffe said.  "Number one, he is a good man from an outstanding football family.  I've known his father a long time and Sonny Lubick's sensational track record in this business speaks for itself.  Matt has proven that he is one of the top young coaches and certainly one of the top recruiters in the country.  His knowledge and work ethic will pay dividends for us offensively, especially with our passing schemes.  We know him to be a tireless worker and feel he will be an outstanding addition to our program."
With the Sun Devils, Lubick served as Assistant Head Coach and Recruiting Coordinator while coaching the safeties.  In his three seasons spearheading the Sun Devils' recruiting efforts, Arizona State's classes ranked 17th (2008), 36th (2009) and 27th (2010) by Scout.com and 21st (2008), 30th (2009) and 35th (2010) by Rivals.com.  In 2007, Lubick helped the Sun Devils to a 10-3 overall record that included a share of the Pac-10 championship, a final national ranking of No. 16 and an appearance in the Holiday Bowl.
Lubick is credited with signing Vontaze Burfict, the highest-rated prospect in Arizona State football history, as well as former Ole Miss standout Dexter McClusker, an All-SEC pick in 2009 after becoming the first player in league history to amass over 1,000 rushing yards and over 500 receiving yards in the same season.  Lubick was named one of the top-10 recruiters in the Pac-10 by Rivals.com in each of his three years with the Sun Devils.
"I am extremely excited about the opportunity I have been given to coach at Duke," said Lubick. "Duke is a special place with great people.  I am thankful for the opportunity to be a part of it as a member of Coach Cutcliffe's staff."
In 1995, Lubick got his start in coaching as a student assistant coach and academic supervisor under his father at Colorado State University.  He then coached one season (1996) at California State-Northridge and two campaigns (1997-98) at San Jose State.  From 1999-00, Lubick was on the staff at Oregon State where he coached the defensive backs while helping coordinate the Beavers' recruiting efforts.  In 2000, Oregon State enjoyed its finest season on the gridiron by posting an 11-1 overall ledger and defeating Notre Dame in the Fiesta Bowl.
A 1995 graduate of Colorado State, Lubick returned to his alma mater for a four-year stint on the coaching staff from 2001-04.  Coaching the Rams' wide receivers, he helped Colorado State to the 2002 Mountain West Conference championship as well as three straight bowl games in 2001 (New Orleans), 2002 (Liberty) and 2003 (San Francisco).  Lubick then served two years (2005-06) on the staff at Ole Miss, coaching the wide receivers.
A native of Bozeman, Mont., Lubick attended Western Montana College where he earned four varsity letters as a defensive back on the football team and earned all-conference and NAIA All-America honors as a senior.  He earned a bachelor's degree in exercise and sport science from Colorado State in 1995.
Lubick replaces Scottie Montgomery, who departed the Duke staff to take a coaching position with the NFL's Pittsburgh Steelers.
"We greatly appreciate Scottie's contributions to Duke Football," Cutcliffe said.  "Scottie is as fine of a representative of Duke University and the Duke Football program as there is.  We wish him the best of luck with this new opportunity."
The Blue Devils open the 2010 season at home against Elon on September 4.  Season tickets may be purchased online at GoDuke.com or by calling the Duke Athletic Ticket Office toll free at 1-877-375-3853.  The Duke Athletic Ticket Office is located in Cameron Indoor Stadium and open daily from 8:30 a.m. to 4:30 p.m.