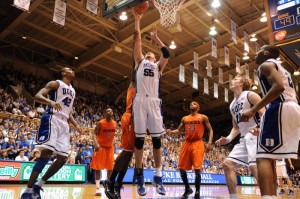 Duke (24-4, 11-2) visits Virginia (14-12, 5-8) on Sunday evening at 7:45 pm EST.
The Cavaliers have lost six straight games, while Duke is riding a seven game win streak. Duke won those seven games by an average of 12.86 points, while Virginia lost their six games by an average of 14 points. These are two teams headed in opposite directions. Duke is playing strong basketball and is contention for a No. 1 seed in the upcoming NCAA Tournament, while Virginia is free falling and fighting for their NIT Life.
Virginia is a team with serious offensive issues. The Cavaliers average 67 points per game, which is last in the ACC, and haven't scored 70 points in a game since January 28th when they lost to Virginia Tech 76-71. The Cavaliers are 12th in the ACC in seven statistical categories, while Duke is 1st in the ACC in 11 categories.
The statistic that jumps out and grabs me from this group is Virginia being 12th in 3-point field goal percentage defense and Duke being 1st in 3-point field goal percentage. The Cavaliers must defend the 3-point line against Duke better than they usually do or it could be a very long night.
Sylvan Landesberg (6'6" 207) is fifth in the ACC in scoring at 17.4 points per game and Mike Scott (6'8" 240) is 18th at 12.8 points. Duke has three of the top seven scorers in the league in Jon Scheyer (18.8), Nolan Smith (17.9), and Kyle Singler (16.9).
In rebounding, Scott leads the Cavaliers averaging 7.2 rebounds per game, which is tenth in the ACC. For Duke, Singler averages 7.2 (11th) and Brian Zoubek 7.0 (13th).
For the Blue Devils, Brian Zoubek has been outstanding the past four games averaging 12.25 rebounds and 9.75 points per game. Over the seven game winning streak, Zoubek's numbers are 9.28 rebounds and 6.71 points per game. Keeping Zoubek on the court and engaged in the game should be a priority for Duke as he is providing the Blue Devils with the strong physical presence in the post that has been missing the past several years.
Virginia is smaller upfront than Duke and the Cavaliers will have to scheme a method to deal with the Blue Devils' ability to dominant the glass if they are to have a chance to win this game. During Duke's current seven game winning streak, the Blue Devils are averaging 19 second chance points.
In addition to Scott, Virginia starts Jerome Meyinsse (6'9" 235) in the front court. Meyinsse averages 5.1 points and 4 rebounds per game.
In the backcourt, Sammy Zeglinski (6'0" 180)) and Calvin Baker (6'2" 190) start alongside Landesberg. Zeglinski averages 9 points per game and Baker averages 3.3.
The keys to the game will be:
1. Who guards Kyle Singler? Landesberg is the obvious choice but does Coach Bennett desire to assign his best offensive option a tough defensive assignment? Singler's play has seen resurgence in recent games. He recorded a 25 points, 10 rebounds double-double in the win over Virginia Tech, 22 points and 11 rebounds in the win over Miami, and 19 points and 9 rebounds in the win over Carolina. Checking Singler is a tall order for the Cavaliers.
2. Rebounding: Duke has been dominating the glass this year. They are 1st in the ACC in rebounding margin at +6.5. Virginia is 10th at +1.5. Duke is 1st in offensive rebounds averaging 15.3 per game, while Virginia is last averaging 10.7 per game.
3. 3-point shooting: Duke is 1st in the ACC in 3-pointers made and 3-point field goal percentage, while Virginia is last in 3-point field goal percentage defense. This is a game where the Blue Devils will have the opportunity to take a lot of long range shots. They need to make them.
This is a bit of a trap game for Duke as the Blue Devils must ensure they take care of business and don't get caught looking ahead to the trip to College Park. Virginia is a team in a tailspin and they simply do not have the horses to compete with the Blue Devils. Duke should win by double digits. However, the operable word is "should" and that is why they play the games on the court and not on paper.