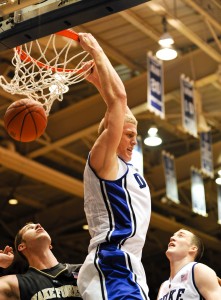 Duke (22-4, 10-2) hosts Virginia Tech (21-4, 8-3) on Sunday February 21 at 7:45 pm EST.
The Atlantic Coast Conference tracks 21 team statistics; Duke is ranked number one in 12 of the categories and number two in a 13th category. Virginia Tech is not ranked number one in any category, however, they are ranked number two in two categories: scoring defense and turnover margin. Virginia Tech is last in the conference in field goal percentage, 3-point field goal percentage, and assists.
In the individual categories, Virginia Tech's Malcolm Delaney is the conference scoring leader at 20.2 points per game. Dorenzo Hudson is 12th at 14 ppg. For Duke, Jon Scheyer is 2nd at 19.1 ppg, Nolan Smith is 4th at 17.7 ppg, and Kyle Singler is 8th at 16.6 ppg.
Reviewing the statistics indicates this game should be a mismatch as Virginia Tech is a team with serious offensive issues. However, reaching that conclusion would be narrow-minded as one must take into account Virginia Tech's 8-3 conference record. As usual, the Hokies know how to win ugly.
In conference play, the Hokies are 6-0 at home and have road wins over Virginia and N.C. State. Out of conference, they have won at Penn State and at Iowa, teams which are currently tenth and 11th in the Big 10. Virginia Tech's road resume isn't going to impress anyone and Duke is undefeated in Cameron Indoor Stadium. This is more evidence the game is a mismatch.
It would be easy to describe this game as a showdown between Duke's big three of Scheyer, Smith, and Singler; and Virginia Tech's marquee players of Delaney, Allen, and Hudson. In reality, the outcome will most likely be determined by the play of the supporting cast. Lance Thomas (6'8" 225) is a defensive specialist who can impact games by containing the opponent's better players. Look for Thomas to draw a tough defensive assignment.
Senior Brian Zoubek (7'1" 260) has played great in recent games. He started for the first time this season and scored 16 points and hauled in 17 rebounds in Duke's win over Maryland. He followed up with 10 points, five rebounds, and five steals in the win at Miami. Zoubek has been previously limited against smaller quicker teams, but his footwork and defensive positioning have been excellent recently. Zoubek credited his physical conditioning for the improved play.
Sophomore Miles Plumlee (6'10 240) and freshman Mason Plumlee (6'10" 230) are two additional members of the supporting cast who could sway the outcome of this contest. The brothers combine to contribute 10.9 points and 9.1 rebounds per game though they have been limited at times with foul trouble.
The Blue Devils have a size advantage over Virginia Tech as the Hokies biggest starter is Jeff Allen (6'7" 230). Victor Davila (6'8" 245) averages 5.8 points and 4.6 rebounds in 24 minutes off the bench. Duke leads the ACC in rebounding margin at +6.3, while Virginia Tech is ninth at +2.9. However, Virginia Tech is fifth in offensive rebounds averaging 13.3 per game. It is imperative Duke utilize their size advantage to keep Virginia Tech off the offensive glass.
The keys to the game will be:
Limiting fouls: Virginia Tech is a woeful offensive team and they rely upon free throws to score points. The Hokies average 18 of their 72.6 points from the charity stripe. Duke must contain Virginia Tech's guard's ability to penetrate into the lane without fouling. Zoubek and the Plumlee brothers will need to provide solid help defense.
Rebounds: Duke must capitalize on their size advantage and control the glass. The Blue Devils lead the ACC in rebounding margin and should be able to score second chance points via offensive rebounds.
Supporting cast: One or two of Duke's rotation players four through nine will need to step up with solid games to tip the balance in Duke's favor.
While on paper, Virginia Tech appears to be overmatched against Duke this will be a tough battle between two top tier ACC teams. Virginia Tech has played Duke tough in Cameron Indoor Stadium in the past, defeating Duke 69-67 in 2007, and losing 77-75 in 2005, on Sean Dockery's halfcourt buzzer beater.
Duke has won the last three games in the series. Last season, Duke won 72-65 in Blacksburg and 69-44 in Durham. In 2008, Duke won 81-64 in Blacksburg. Expect tomorrow's game to be a close affair decided over the last five minutes of the contest.