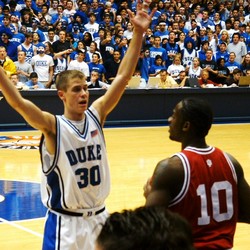 #10 Duke (17-4, 5-2) hosts #21 Georgia Tech (16-5, 4-3) on Thursday February 4, 2010 as the Blue Devils and Yellow Jackets face each other for the second time this season. Georgia Tech prevailed 71-67 in the first game, which was played at Alexander Memorial Coliseum, in Atlanta.
The Blue Devils will be looking to snap back strong after taking a pounding at the hands of the Georgetown Hoyas on Saturday afternoon. Duke has not lost two games in a row this season and has won previous games following a loss by an average of 14 points.
Three "keys to the game" were identified in the Blue Devil Nation preview prior to the first meeting. The same keys exist for this second meeting so let us revisit them one at a time taking a look at how they played out in Atlanta.
1. Defensive rebounding. Duke must keep Georgia Tech off the offensive glass and prevent second chance points.
Duke did an excellent job on the glass, during the first half, with 20 rebounds to the Yellow Jackets 12. Georgia Tech was limited to two offensive rebounds and two second chance points. Not surprisingly, Duke held a six point advantage, 35-29, at the half. In the second half, Georgia Tech dominated Duke on the boards 26-12, pulled in 11 offensive rebounds, and scored eight second chance points as they outscored the Blue Devils by ten points. The Yellow Jackets performance on the glass in the second half was the significant factor in securing the four point victory.
In the rematch at Cameron Indoor Stadium, Duke must do a better job of blocking out and beat Georgia Tech on the glass for a full 40 minutes. Staying out of foul trouble should be another objective for the Blue Devils as Lance Thomas fouled out of the first game with more than 10 minutes remaining.
2. Turnovers. With Georgia Tech's suspect ball handling, look for Nolan Smith to apply pressure on the Yellow Jackets main ball handler. This is a game where Duke may look to trap the ball as it is brought across the half court line. Lance Thomas could be a key player if Duke opts to run a half court trap defense. The best way to neutralize Lawal and Favors down low is to prevent them from getting it down low.
Georgia Tech has suspect ball handling but in Atlanta they scored more points off turnovers (18) than Duke (15). While this key was not as significant to the Georgia Tech victory as their rebounding performance, it is important for Duke to do a better job in Durham if they expect to win the ball game.
3. Outside shooting. Georgia Tech's strength is their inside play so look for Duke to try and open up the inside by knocking down the long ball. Duke is leading the ACC in 3 point field goal percentage at 42.6 percent and second in the league in 3 point field goals made with 8.6 per game.
Duke shot poorly in Atlanta going 6-28 on 3-point field goal attempts. In fact, Duke has shot poorly since ACC play began and they've fallen to third in the ACC in 3 point field goal percentage at 38.2 percent. Over the first seven ACC games, the Blue Devils are 34-119 or 28.6 percent on 3 point attempts.
The Blue Devils must rediscover their perimeter stroke in February and getting off to a great start against the Yellow Jackets tough defense would be timely. In Atlanta, Jon Scheyer scored 25 points; Mason Plumlee scored 10, Kyle Singler, and Nolan Smith contributed nine each, while Miles Plumlee added eight. This Thursday, Duke will need a similar strong performance from Scheyer and more scoring from Singler and Smith.
Additionally, Duke will need "points in the paint" so another 18 points and 11 rebounds performance from the Plumlee Brothers or similar numbers from seniors Lance Thomas and Brian Zoubek will be necessary to balance the offense.
Andre Dawkins is another offensive weapon Duke hopes to get back on track. Dawkins was providing 10 points a game off the bench in the early part of the season but has been in a shooting slump so far in 2010. Reviving Dawkins could not only assist Duke in winning the Georgia Tech game but could be a key to the remainder of the 2010 season.
Here is a look at Georgia Tech's main players and their statistics:
Junior Gani Lawal (6′9″ 235) averages 14.5 points and 9.0 rebounds per game. He is 13th in the ACC is scoring and 3rd in rebounds. Lawal has the 5th best field goal percentage at 55.2 percent. He scored 21 points and grabbed 11 rebounds in the first game against Duke and proved to be the difference down the stretch.
Freshman Derrick Favors (6′10″ 245) averages 11.5 points and 8.6 rebounds per game. Favors is 5th in the ACC in rebounds. In the first game, he contributed seven points and eight rebounds.
Sophomore Iman Shumpert (6′5″ 205) is back after missing six games with a knee injury. He averages 10.3 points and 4.1 assists per game, but also turns the ball over 3.3 times per contest. In the first game, Shumpert recorded eight points, three assists, and seven turnovers.
Freshman Mfon Udofia (6′2″ 185) and Senior D'Andre Bell (6'6" 220) are Georgia Tech's fourth and fifth starters. Udofia averages 9 points, 2.7 assists, and 2.3 turnovers per game. Udofia scored 13 points and shot 50 percent (3-6) on 3 point field goal attempts in the first game. Bell averages 6.5 points, 2.6 rebounds, 1.8 assists, and 1.3 turnovers per game.
Senior Zachery Peacock (6′8″ 235) averages 9.6 points and 4.3 rebounds off the bench for the Yellow Jackets. Peacock has the ability to step out to the perimeter and knock down jump shots. He is making 44.8 percent of his 3-point attempts on the season. Peacock contributed 11 points and four rebounds in the first game.
This is an important game for both teams. For Duke, it is imperative the Blue Devils secure a win to cement their position as the top team in the ACC. A second loss to the Yellow Jackets could result in a team with shaken confidence during the middle of the ACC season, which is not a good situation. A win over the Yellow Jackets would keep the Blue Devils on top of the ACC standings and allow the team to put the Georgetown loss behind them and focus on moving on toward tough road games at Boston College and North Carolina.
For Georgia Tech, a loss to the Blue Devils would drop their conference record to 4-4 and place them solidly amongst the muddy middle of the ACC standings. A second win over the Blue Devils would keep the Yellow Jackets competitive for a slot in the upper tier of the ACC standings and a Thursday bye in the ACC Tournament come March.