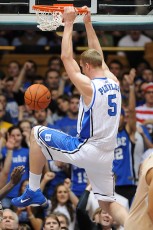 DURHAM, N.C. - Coach K wasted little time in showing his displeasure in the media room after his Blue Devils had just finished defeating St. John's 83-76.  Duke rolled out to a 45-29 half time lead but in the second half, the Johnnies lit up the Duke defense for 47 points and more disturbing was the fact the Blue Devils simply wern't playing together or making easy plays.
"We're treating this game as a loss. I t was a loss for me today, I didn't like today." said Krzyzewski.  He also said that his team had had a tough month and that they would take two days off before preparing for their road trip to play Virginia Tech in Blacksburg at 7:00 on Thursday evening.  Despite the lack luster second half, Mason Plumlee continued to be a bright spot for this years team.
Mason recorded his double-double of the season tallying 15 points to go with a dominating career high 17 rebounds.  But like Krzyzewski, Mason was not too happy in the post game in that his team did not perform well.  "We just have to learn to start putting teams away," as he looked down and then up again saying, "Our defense was horrible in the second half."
With just over 17 minutes left in the second half, Duke held a 21 point lead, but from that point forward were outscored by 14 points the rest of the way.  Duke failed to finish a lot of what should have been easy buckets and left a good 20 points or so on the floor.   Duke was also outscored in the paint and second chance points and in fact had just one put back on the offensive end in the half.
The Blue Devils also went ice cold from the three point stripe going just 1 of 7 after going 6 of 11 to open the game.  In short, it was just a disjointed no traditional Duke like performance and one that clearly was unacceptable to Krzyzewski.  With the win Duke improves to 18-3 overall, avenging last seasons upset loss to the Johnnies in New York.
Ryan Kelly led Duke in scoring with a 16 points and was one rebound shy of a double-double, ending the game with 9 boards.  Andre Dawkins chipped in 14 and Austin Rivers dropped 12 to round out the double-figure scores for Duke.  Dawkins nailed three three pointer in a 20-9 Duke run to close the first half while Rivers recorded his 12 double figure scoring game which is tops amongst all Blue Devils.
Duke knocked down 32 of 42 free throws, and Kelly had 10 of 12 of those and Duke did finish the game going 10 of 11 over the final three and a half minutes.  The score was tied just once and the lead changed but a single time and Duke won the game, just not in an impressive fashion.  "We did enough to win and that's not us, that's not Duke Basketball,"  said Krzyzewski.  Hear the rest of his comments via BDN Video below -