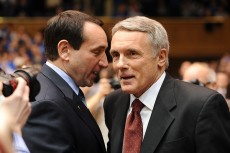 Game 22 [5 AP / 5 Coaches] Duke (19-2, 6-1 ACC)  vs. Maryland (14-7, 4-3 ACC)
Wednesday, Feb. 2, 2011 • 9:00 p.m.
 
The Opening Tip
•
 Duke (19-2, 6-1 ACC) faces Maryland (14-7, 4-3 ACC) on Wednesday, Feb. 2 at the Comcast Center. Tipoff is set for 9:00 p.m.
• The game is being televised by ESPN with Dan Shulman (play-by-play), Jay Bilas (analyst) and Jeannine Edwards (sideline) calling the action.
• Duke is ranked No. 5 in the AP Poll and ESPN/USA Today Coaches Poll, while Maryland is unranked in both polls.
• The Blue Devils are looking for their 20th win of the season. Duke has won 20 or more games 45 times, including each of the last 14 seasons.
• Duke has won 37 of the last 40 games entering Wednesday's game with Maryland.
• The Blue Devils are looking for a third straight ACC road win.
 
Duke-Maryland Series History
• Duke leads the all-time series 108-61, including a 30-25 mark in College Park, Md.
• The Blue Devils have won seven of the last eight meetings, including a 71-64 win at Cameron Indoor Stadium earlier this season.
• Seven of the last 11 games in the series have been decided by 10 points or less.
• Duke has won three of the last five games at the Comcast Center.
• Mike Krzyzewski is looking for his 50th win over Maryland on Wednesday. He is 49-21 all-time against the Terrapins.
• Senior Kyle Singler had 25 points and 10 rebounds, while Nolan Smith added 18 points, seven rebounds and eight assists in Duke's January 9th win over Maryland.
 
Numbers Game

l Mike Krzyzewski is one of seven coaches in ACC history with a winning percentage above .500 in league road games. Coach K's .607 road winning percentage ranks fourth all-time, while his 136 career road wins are an ACC record.l Duke has scored 80 or more points in 15 games this season. The Blue Devils have won 30 consecutive games when scoring 80+ points. l The Blue Devils have had at least one player score 20 or more points in 16 straight games. Duke has had two players top the 20-point mark seven times this season.
l Nolan Smith is attempting to become the first player in ACC history to lead the league in scoring and assists. Smith is currently averaging 21.0 points and 5.6 assists per game. He is one of four players in the NCAA averaging over 20.0 points and 5.0 assists per game.
l Kyle Singler is 11 points shy of moving into the top 5 at Duke and the top 20 in the ACC in scoring. He enters Wednesday's game with 2,144 career points.l Mason Plumlee has raised his rebound average an ACC-best 5.5 rebounds per game from a year ago. He ranks fourth in the ACC in rebounding at 8.6 rpg. and has grabbed 10 or more rebounds 10 times this season.
l Nolan Smith averaged 25.3 points per game in nine January contests. He scored 20 or more points in six of those games, including a pair of 30+ point efforts.
l The Blue Devils are 14-2 following a loss over the last four seasons. Duke has not lost back-to-back games since the 2008-09 season.
l Duke has not lost back-to-back games against
unranked opponents since falling at Wake Forest and Miami in February of 2008.