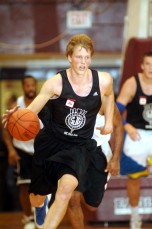 #7 Duke (20-4, 8-2 ACC) host unranked Maryland (16-6, 6-2 ACC) on Saturday afternoon at 1 pm in a game which will determine first place in the ACC standings. This will be the 1,000th game at Duke for Coach Mike Krzyzewski. Duke defeated Maryland three times last season and has won the previous five meetings. Maryland last defeated Duke on February 28, 2007.
Maryland is led by senior guard Greivis Vasquez (6'6" 190) who averages 18.1 points, 6.3 assists, and 4.5 rebounds per game. Vasquez is a crafty player who likes to push the tempo and is a very good passer in Coach Gary Williams' flex offense. Vasquez plays 32.5 minutes per game.
Senior forward Landon Milbourne (6'7" 207) is Maryland's second leading scorer at 14.5 points per game. Milbourne also averages 5.4 rebounds and plays 30.3 minutes per game.
Senior guard Eric Hayes (6'4" 184) is a deadly 3-point shooter making 46.1 percent (47 of 102) on the year. Hayes averages 11.1 points, 3.4 assists, and 2.5 rebounds per game. Hayes plays 30.4 minutes per game.
Sophomore Sean Mosley (6'4" 210) contributes 11.5 points, 3 assists, and 5.6 rebounds per game in 28.1 minutes of playing time.
Freshman Jordan Williams (6'9" 245) averages 8.4 points and 7.9 rebounds per game in 22.9 minutes of playing time. Williams is touted as having great hands.
Off the bench, Maryland has four players averaging double digit minutes: Cliff Tucker (15.2), Dino Gregory (19.9), Adrian Bowie (16.5), and James Padgett (11.2). Maryland has more depth inside this season but they are a smaller team than Duke.
Duke and Maryland have had eight common opponents on the season. In out of conference games, both teams have beaten UNC-Greensboro and lost to Wisconsin. In conference, both teams have beaten UNC, Florida State, and Boston College. Maryland has beaten N.C. State who defeated Duke, while Duke has beaten Clemson and Wake Forest who both defeated the Terrapins.
The Blue Devils will be without starter and defensive specialist Lance Thomas who suffered a severe bone bruise in his right knee when he collided with Larry Drew II during the Carolina game. Replacing Thomas' minutes will require Coach Krzyzewski to be creative with the rotation. Coach Krzyzewski has stated he expects Dawkins to play increased minutes with Kyle Singler rotating from small forward to power forward.
Another line-up which will surely see time together will be Brian Zoubek and Mason Plumlee together with Scheyer, Smith, and Singler. This is Duke's most effective non-Thomas line-up from a +/- perspective.
The keys to the game will be:
1. Outside shooting: Duke is shooting .394 on the season from behind the 3-point arc. However, in the 13 games played in Cameron Indoor Stadium, Duke is averaging .442. Maryland is eighth in the league in 3-point field goal percent defense. Duke needs to knockdown the long ball in this game.
2. Rebounding: Duke leads the ACC in rebounding margin at +6.6. Maryland is 11th at +1.2. Duke is second in the ACC in offensive rebounds averaging 14.6 per game. Duke is bigger and stronger and will need to be aggressive on the glass.
3. Assists and turnovers: Both Duke and Maryland take care of the basketball with a 1.3 assists to turnover ratio. Maryland is second in the ACC with 8.4 steals per game. Neither team can afford to give the other extra possessions in a game this analyst expects to be decided in the last couple of minutes.
With the celebration for Coach Krzyzewski's birthday, his 1,000th game as head coach at Duke, and first place in the ACC on the line, the atmosphere will be electric inside Cameron Indoor Stadium. Both teams must be cautious of emotions to ensure the other team doesn't jump out to an adrenalin fueled early lead. Once the teams settle in and commence execution of their game plans, this should be a very exciting basketball game.