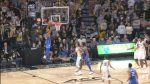 The Duke Blue Devils won their fifth consecutive ACC game with an 84-70 victory over Wake Forest.  With the win, Duke sets up an ACC showdown against Virginia this coming Saturday in Cameron Indoor Stadium.
The Blue Devils move to 18-2 on the season and 6-2 in the ACC.  Duke was led by a solid performance from Wendell Carter Jr. who had 23 points,  12 rebounds, 2 blocked shots, 2 assists and 1 steal.  It was Carters ninth double-double of the season.
Duke also got another double-double from Marvin Bagley III who finished the contest with 16 points, 11 rebounds and 3 steals.  "We are growing as a team and definitely getting better," said Bagley after the teams win.
Gary Trent Jr. had another solid scoring game by adding 19 points.  Grayson Allen also entered double figure scoring with 17 points to go with a team high 6 assists and 4 rebounds and 3 steals.
The Blue Devils never trailed in this game.  They continued to play better defense, holding Wake Forest to 70 points where 11 steals played a big role.  Duke also had an impressive 30 points off turnovers.
Wake Forest would cut into the lead with a 10-0 2nd half run, but Duke was solid down the stretch on their way to an important road win.  Quite simply, Duke took care of its business and by doing that they remain in the ACC regular season race.
"I really don't like playing teams so close together and I definitely don't like Tuesday 9 games but our staff prepared us well for them," said Duke Coach Mike Krzyzewski.
Duke used Allen to run the team with Duval having an off game per Krzyzewski.  He also praised the play of Alex O'Connell off the bench who played 20 minutes in the game.  "I thought Alex gave us a lift offensively in the 1st half and defensively in the 2nd half with Trevon not playing well."
Krzyzewski said his team took some bad shots after a quick start to the 2nd half.  He said Allen ran the team well.
The Duke game against Virginia will tip off at 2:00 on Coach K Court.  The Cavaliers come into the game ranked 2nd in the nation and undefeated in conference play.