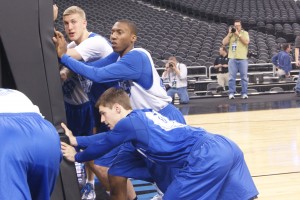 The #1 seed Duke Blue Devils (31-5) take on the #4 seed Purdue Boilermakers (29-5) in the South Regional Semifinals on Friday night at Reliant Stadium in Houston, Texas. The two teams last met in a 2008 ACC-Big Ten contest that was dominated from the start by the Blue Devils, who emerged with a 76-60 victory in West Lafayette, Indiana. A trip to the South Regional Finals is on the line in tonight's matchup, which will feature two of the country's top defenses.
The season-ending injury to Robbie Hummel makes Purdue a somewhat difficult team to scout, but they have played seven games without their star forward, compiling a 5-2 record. In those seven games, the Boilermakers have averaged only 61 points, while holding their opponents to an average of 60 points per game. Clearly, their margin of error has been reduced without Hummel and his 16 points per game. However, as Duke saw recently in the ACC tournament against Virginia and Miami, the loss of a star player presents an opportunity for a team to unite and for other players to elevate their games.
Like the Blue Devils, the Boilermakers have been led by their "big three" all-conference performers throughout the season in E'Twaun Moore, Robbie Hummel, and JaJuan Johnson. Moore, a 6'4" junior guard, received first-team All-Big Ten honors after averaging 16 points and 1.4 steals per game. The Boilermakers, led by Moore and sophomore Lewis Jackson on the perimeter, look to force their opponents into turnovers, ranking fourth in the country in turnover margin, forcing an average of 16 per game. Johnson is a 6'10" junior center who earned second-team All-Big Ten honors after averaging 15 points, 7 rebounds, and 2 blocks per game. Johnson is a disciplined defender in the post, having fouled out of only two games all year. Chris Kramer, the Big Ten Defensive Player of the Year, is a 6'3" guard who has filled in admirably on offense for the injured Hummel. Kramer has averaged 13.5 points, 4.5 rebounds, and 3.5 steals through the first two NCAA tournament games.
While many picked Purdue to bow out early in this year's tournament, the Boilermakers defeated a tough Siena team in the first round and pulled out a gritty overtime victory against Texas A&M in the round of 32. This matchup should be an exciting one for fans of good team defense, as points will be hard to come by for both offenses. With this in mind, some of the keys to the game for Duke will be:
Rebounding. This has been a strength of this Duke team all season, and they will need to assert their dominance on the boards in this game. Duke should have a size advantage at nearly every position. Kyle Singler, in particular, should present a matchup nightmare for the Boilermakers; Duke will need to exploit their size advantage on the glass and in the post throughout the game. Brian Zoubek will need to continue his strong play in the paint by crashing the offensive boards and slowing down Purdue's Johnson on the defensive end. The Boilermakers defense will force the Blue Devils into some difficult shots, and second chance points could be the deciding factor in a close game.
Turnovers. The Boilermakers have the fourth best turnover margin in the country and will try to force the Blue Devils into mistakes on offense. Duke's "Big Three" ballhandlers will need to be strong with the ball and make good decisions to limit easy scoring chances for Purdue. Purdue will try to pressure Jon Scheyer and Nolan Smith into turnovers, and the veteran backcourt will need to initiate the Duke offense effectively to take advantage of their superior size.
Free throws. Purdue struggled to get to the free throw line in their second round game against Texas A&M, shooting only 6 the entire game. As a team, the Boilermakers shoot better than 72% from the line on the season. For a team that struggles to score, the Blue Devils will need to keep Purdue off the free throw line to limit easy points. On offense, Duke should look to get to the free throw line for easy points of their own and the opportunity to put some of Purdue's pesky defenders into foul trouble.
Defense. It's the bread and butter of this Duke team. The Blue Devils have held 19 opponents under 60 points this season, and they need to bring that number to 20 tonight in Houston. If Duke plays its typical stingy team defense tonight, Purdue should have a tough time scoring enough points to keep up with Duke.