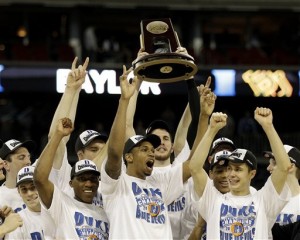 HOUSTON - The Duke fans who made the trip to  Houston have an extra hour of joy to celebrate Duke going to their 15th Final Four.  But for those of you on eastern standard time, the Blue Devils are headed your way tonight.
After much celebration, the Blue Devils will be back in Durham early this A.M. and they are carrying the Southern Regional Trophy with them.   The Blue Devils defeated Baylor 78-71 before 35,000 screaming Bears fans in a very exciting contest.
On a night when Kyle Singler couldn't find his mark offensively, Nolan Smith played the game of his life, scoring 29 points and being named the most outstanding player of the region.  Despite Singler's off game his teammates picked it up and that has been the case for this Blue Devil team all year long.
The one thing which really stood out after the contest was the word, "togetherness."
Another word you heard a lot in the Duke locker room was chemistry and a third word heard often was tight.  You see, these Blue Devils are on the same page like few other teams before them.  "We always hang together off the court, there are no cliques on this team," said a very emotional Lance Thomas.
When I asked Thomas if he had ever played on a tighter team, he shook his head from side to side for emphasis, saying, "Never, never," with a lump in his throat.  "We've worked so hard for this," said Thomas who was almost at a loss for words with relief.
Thomas and his senior teammates are a big reason for the camaraderie and the Duke staff is quick to tell you that.  In an on-court interview with Duke Assistant Coach Chris Collins, the emotional coach stated, "These guys may be the best team we've ever had."  He didn't mean the most talented, as you will hear.  No, he was talking about how much he liked coaching this group.
Coach Wojciechowski then stated, "It's not the most talented team, but they like one another and do everything together."
His senior teammate Brian Zoubek echoed the sentiment as well, "He's [Thomas] right.  We do it all together."  Whether it is going to movies, bowling or just hanging out, every player agreed that this was one tight knit group.
These Blue Devils show that tight knit togetherness on the court as well.  The 2010 Blue Devils never seem to panic and they lean on each other, picking up the slack when a teammate has a down game.  No matter what the statistical anomaly, this team finds ways to win.
When I asked Nolan Smith if he felt he needed to become more of a scorer with Singler having an off game, he was quick to say yes, but he followed that by saying, "That's the way it is this season, we help one another."
Perhaps, Jon Scheyer said it best, "We can tell one another anything.  We're able to confront each other and we all hold each other accountable."  In short, these Blue Devils have each others back in every way.
As I told Scheyer what Thomas had said about chemistry and togetherness, he exclaimed, "Yes, I have never been on a team in my life that was so close and then the emotion kicked in and he fought back tears looking down before recovering and answering questions from the throng of media which then gathered around him.
This may not be Coach Mike Krzyzewski's most talented team, but I have never seen a group more together and that in itself makes this team quite special.  And before you say maybe I didn't see the back to back national champions or the 86 team, think again, for I have witnessed every season since a coach whose name nobody could pronounce came to Durham from Army.
Coach Krzyzewski may not tell you the same for he has had some really good teams, but, make no mistake, he understands how special this season has been to date.  Win or lose in Indianapolis, this team is indeed unique.
It's a team that went through a lot in the off season with departures and missed on what many felt at the time were 'must' recruits for success.  One thing is certain, those players are now questioning their decision as Duke is once again basking in the national spotlight.
But maybe those near misses and defections are the reason this Band of Brothers has come together unlike any Duke team in recent memory.
"We hang together on and off the court and like each other," said Thomas.  He then continued, "There are no separate cliques on this team, we are all in this with one another."  Yes, he repeated himself with sincerity.
And then there is Coach Kryzewski's comments during the post game press conference, "This team will really be brothers forever.  It's as close a team as I've had.  You want great things to happen for people who are great with us.  I mean, they've been spectacular to coach.  You can tell they're really close and I'm ecstatic about it.  I can't tell you how happy I am about them taking our staff to Indianapolis.
And Duke fans?  They should be happy to have a group like this represent the royal blue and the four letters they wear proudly on their chests.
Stay tuned for more coverage from Houston and stay tuned to BDN all the way through the Final Four in Indy for we will be there for you.  Want to support BDN?  Join Blue Devil Nation Premium.  You are sure to like it!