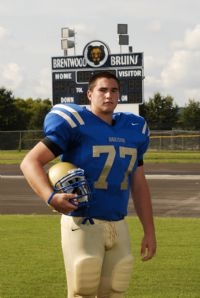 BDN's look at offensive line prospects continues with a look at Lucas Patrick -
Lucas Patrick is a 6'4" 287 pound junior offensive guard from Brentwood, Tennessee. In 2009, Brentwood finished second in the Tennessean's year-end mid-state poll, falling one game short of the state championship. Lucas received the team's Junior Weight Room Award, anchoring an offensive line that helped senior RB Jeremy Coffey run for a school-record 1596 rushing yards.
On the field, Lucas says, "I like to be physical, come out and hit somebody." With Brentwood's option-style offense, Lucas is able to get downfield and make big blocks for the running game. He hopes that he is thought of as someone who "plays smart and is a team player." For his senior year, Lucas is looking forward to becoming a leader on and off the field. "I want to get the best out of my teammates and be someone who makes them work," he said. With Lucas leading the offensive line in the option-style attack, Brentwood has their sights set on a state championship in 2010.
For his college choice, Lucas is "definitely looking for a good academic school." He prefers a campus that is "not small, but has a real sense of community." And of course, he's looking to compete on the field for an elite football program. As an offensive lineman, Lucas says he has learned to value "camaraderie among the players - where everyone's got your back." He's looking for a coach who will be a person and a coach, not just a disciplinarian on the field.
"I have a top list of schools, and Duke is the top right now," Lucas said about the schools he's considering. He's received interest from Cincinnati, Vanderbilt, and Tennessee, and also holds offers from Duke, Middle Tennessee, Western Kentucky, and Arkansas. This spring, Lucas enjoyed visits to Duke, Cincinnati, and Vanderbilt.
While he is admittedly "not a city boy," Lucas was impressed with the way the Bearcats "compete on every snap, and really try to get better every play." Vanderbilt is his hometown school, just fifteen minutes down the road from Brentwood, and Lucas has developed a strong relationship with offensive line coach Robbie Caldwell, who he sees as a coach who can help to "lead in football and in life."
After discussing football and faith with Duke offensive line coach Matt Luke and team chaplain Mitch Mitchell, Lucas felt strongly that Duke was a place where he would fit, but he came away most impressed by the Duke players. "The players did not hesitate to talk with me, they didn't even wait for a coach to introduce us. They came up and talked to me on the sidelines during practice," he said of his visit to Duke for the spring game.
Lucas is in the first week of spring practice and is looking forward to visits from coaches during the spring evaluation period. He is waiting to hear how serious Tennessee is with their interest, and intends to make his college decision by the end of spring practice so that he can focus on his senior year. Lucas added that he definitely intends to attend Duke's summer camp.