The National Champions returned home to a standing-room only crowd in Cameron Indoor Stadium today, just after 2:00 PM. The Blue Devils were escorted by a helicopter from the Raleigh-Durham airport back to campus, which allowed fans to track the team's progress towards the stadium. As the bus pulled in and the helicopter flew away, the replay of the final minute of yesterday's national championship game was shown on the scoreboard, which also displayed the final score, Duke 61, Butler 59. As the final buzzer sounded, Cameron Indoor Stadium erupted and the voice of the Blue Devils, Bob Harris, took the podium to proclaim, "how sweet it is!" As the national champions took the stage, led by freshman Andre Dawkins with the championship trophy, Cameron reached its highest decibel of the season.
Coach K was first to take the podium, thanking the fans for their support and for being part of this "great team." He was also glad to see the commemorative newspapers held up by many fans did not contain doodles on his face. "Zoubek looks good in a beard, but not me," Coach K remarked. Krzyzewski also mentioned how happy he was to be home in Cameron and how excited he would be to hang a fourth banner from the rafters over his head.
Senior captain Jon Scheyer was first to take the podium with a grin from ear to ear, which received a deafening applause from the capacity crowd. He thanked the crowd for their support, "you guys are the best, the best." Fan favorite Brian Zoubek took the podium next, to a chorus of "Zous," and remarked that as good as the last 24 hours had been for the team, "seeing you all here today, packing this house, that's the best for me!" Lance Thomas told the crowd that this is the best team he'll ever play on, and Kyle Singler, who was greeted to cheers of "one more year," urged the fans to savor the championship. Nolan Smith was left speechless, only to say that "all these guys are my brothers." At the conclusion of the ceremony, the team locked arms, a symbolic gesture of the unbreakable unity that the team embraced during their championship run.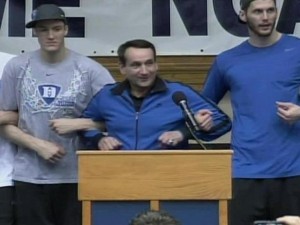 It was certainly a tremendous and well-deserved welcome home for the national champions. The jubilation on campus today was absolutely palpable. The Blue Devils are National Champions!