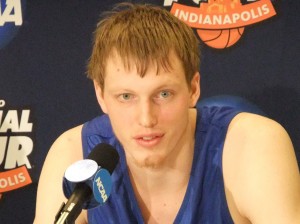 DURHAM - Duke Basketball got some great news early last evening when Kyle Singler announced that he would continue to play basketball in Durham  this coming season. Singler averaged 17.7 points, 7.0 rebounds, 2.4 assists and a steal during his junior season and that helped pave the way for Duke to win the national title while sporting a 35-5 record.
During today's press conference, Singler was wide eyed and bushy tailed, meaning he was beaming with happiness about returning to the Gothic Wonderland for his senior campaign.  Singler sat beside Coach Krzyzewski who was wearing his new championship ring and there was a sense that all things are right in the Blue Devil Nation.
The sounds of camera flashes flushed through the air of the media room as Singler began to explain his decision.
"I feel really good about my decision and with having two good choices I couldn't lose, which meant less pressure to make a choice," said Singler.
"We're still basking in the glow of winning the national championship," said Singler who was named the most outstanding player of the Final Four.  Despite this being his day in the limelight, he was definitely thinking of his beloved teammates.
"I wanted to base my season on whether I wanted to be in school and I enjoy playing at Duke, so I didn't base my decision on whether there would be a lockout or not," said Singler addressing the questions of why and how he came about his choice.
Some media members didn't seem able to wrap their mind around that fact Singler would return, which bred questions about past comments concerning his desire to play in the NBA.  "It was his dream to come to Duke and he is finishing one dream before he starts another and he wants to maximize the dream," said Krzyzewski who continued "He's an amazing guy to coach, he's got a great heart and is a warrior.  Through leadership, I think he can bring that out in others on the team."
Singler's return guarantees that his name will go down as one of the great four year players at Duke and we'll simply have to wait and see if his number hangs in the rafters of hallowed Cameron Indoor Stadium.  In order for that to happen Singler must win a player of the year award if past criteria applies, and Krzyzewski wasted little time in throwing his name out for one of the trophies.
"Kyle will captain our defense, he has a great understanding and was one of the best defensive players in the country this year," said Krzyzewski.
Singler's decision came after he analyzed all facets of his situation and Krzyzewski said he talked with GM's, Coaches and about half the league to get accurate information.
The junior All American's  draft stock rose as the season progressed, but fans of college basketball underestimated just how much Singler enjoyed campus life.  His decision was made over the weekend as we hinted would happen to members of BDN Premium.
When asked what he thought he could improve upon, Singler stated, "I think one thing I do want to improve on is my leadership.  Being a senior and coming back with Nolan Smith and some other guys, my leadership will grow and that will help me as a player."
In the end Singler just wanted to play for Duke and his experiences this season certainly helped him make, in the end, what seemed to be an easy decision. "I just had a great time playing this season and being around guys who enjoyed getting better.  Just being around that team made me better."
But, to close, we defer to the reasons he told Krzyzewski he was staying in the fold for his senior year.  Kyle told me, "I love Duke, the players, the people, everything about Duke, " said Krzyzewski.
The bottom line is that Singler wants to experience his senior season.  He doesn't want to miss out on being a leader and seeing if he can once again propel Duke to the top of the college basketball world.