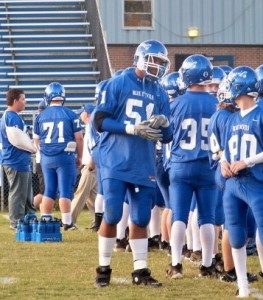 Shaquille Love is a 6'5" 270 pound defensive tackle from Harriman, Tennessee. Recruiting is starting to pick up for the Harriman Blue Devil lineman, and BDN recently spoke with Shaquille to check in on his process.
BDN: Can you briefly describe your game for us?
Love: My game is based on my speed and quickness. That's what the coaches who have been recruiting me are telling me they love about me. I use my strength, too, but I rely on my speed.
BDN: What have you been working on as you head into your senior season?
Love: The two biggest things are my footwork and my strength. I want to help our team win a state championship. Individually, I just want to keep progressing, do better this year than last year.
BDN: Do you have any plans for visits or camps this summer?
Love: I'm still deciding on camps with my coach. I've taken a lot of unofficial visits this spring and want to sit down with my coach and decide on my camps and official visits.
BDN: What are you looking for in a college, and more specifically, a college football program?
Love: Really, it's where I feel the most at home and the most welcome. I want to go where I can help the team the most, get a good education, and grow the most. Being part of a family is really the most important.
BDN: What schools are you currently considering?
Love: I have offers from Middle Tennessee, Memphis, Kentucky, and Duke. And I've heard from Arkansas, North Carolina – I just heard from them last week, Notre Dame, Michigan State, Ole Miss, Illinois, and there are a few others I can't think of right now. The Illinois thing is funny – they said I could say I have an offer, but they have to see me first, so I don't actually have an offer from them yet.
BDN: What schools have you been able to visit so far?
Love: I visited Kentucky, Duke, Western Kentucky, and UT (Tennessee).
At UT, I watched a practice, but didn't get to talk to the coaches. I got introduced to them, but didn't talk to them. Coach (Jim) Chaney has been recruiting me pretty hard.
Duke was my first visit. I went up there with my coach, it's about a six hour drive and we stayed overnight. We got up and saw their scrimmage and then toured around. At the end, I got to meet with Coach Cutcliffe and he offered me right then.
I went to Kentucky and saw the campus, visited with the coaches. Their program is really progressing. I met with their coach at the very end of my visit and he offered me then.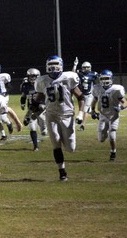 BDN: What is your timeline for making a decision?
Love: I am just waiting on the Lord to show me were to go, man.
BDN: Is there anything else you would like our members to know about you?
Love: Nope, I think that covers it.
BDN: Thanks so much for your time, Shaquille, and best of luck with your decision.
Love: Thank you and if you want another interview, please let me know.