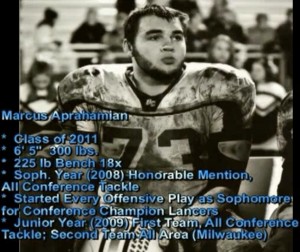 Marcus Aprahamian, a junior offensive guard from Brookfield, Wisconsin, committed to Coach Cutcliffe and the Duke Football Program this week and had the following to say to the Blue Devil Nation:
"I have been a Duke commit for almost a day now and still feel on top of the world.
For the last month I have been thinking about the offers I already had and the other schools that were still interested in me. I had already stopped sending out materials to some schools because I knew that, even if they offered me a scholarship, I would not select them over Duke. There were a couple of schools, including Stanford, that were interested and that I was still considering along with Duke. After considering the other options, however, I realized that Duke was just the right school for me.
I really like Coach Cutcliffe, Coach Luke and Coach Sarrett, the football program is on the rise, the academics are unbeatable, and just walking around the campus I got the feeling that Duke could most definitely be home for my future. I want to play for the team that rebuilds the program and brings an ACC championship to Duke."
Welcome to the Duke family, Marcus!