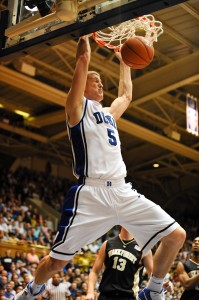 DURHAM, N.C. - As the dog days of summer creep in, Duke must put their magical ride to the national championship in perspective by preparing for next season. Don't get me wrong in that the program will indeed bask in the light of their fourth title for that is worthy of continued celebration but Krzyzewski has already started to look ahead.
Replacing three sensational seniors is a daunting task especially down low where they lost the hard working Lance Thomas and the burly Brian Zoubek.  While one can justifiably argue that Jon Scheyer is perhaps the biggest loss in terms of stats Duke can replace him much easier in the backcourt in that they're a tad depth shy up front.  Enter the Plumlee brothers.
Mason and Miles Plumlee will get more than a few minutes this season and their development will be vital to the Blue Devils' efforts to repeat as national champions.  Both brothers are not only capable but expected to have breakout seasons.
Despite playing a role where he came off the bench in his freshman season, Mason Plumlee showed flashes of brilliance. One moment which stands out was his exclamation point, behind the head dunk versus rival North Carolina at the Dean Dome which helped Duke continue a run which sealed the victory.
And for those not keeping track, Mason is 2-0 against Duke's arch rival with two ACC and one national championship in his first season.  Talk about the kind of stats where a legacy can start, right?
Many are excited by Mason's potential which has one on line draft projection specialist slotting him in the first round of next season's draft.  To fill those expectations Mason will have to round the learning curve this season after adjusting to the speed of the game in his freshman campaign.
Learning the Duke system is no easy task.  It took Brian Zoubek's senior season for the light to go off on where he needed to be on the court.
Mason will still experience some growing pains but there is no reason for the athletic big not to rise to the occasion.  In order to do that, Mason knows that his off season workouts are vital to his progress and he'll waste little time in preparation.   In fact, the Duke coaching staff was able to get their soon to be starting center into a summer internship with Attack Athletics.
The rising sophomore will train under one of the masters of his profession in Tim Grover, known as the trainer to the pro's.  If you haven't heard of him before, Grover not only trained Michael Jordan exclusively but former Duke standouts, Carlos Boozer, Elton Brand, Luol Deng and Chris Duhon, and that only scratches his list of clients.
After spending the better part of a month in Chicago, under intense daily tutelage, Mason will return to Durham where he'll work out with returning players under the watch of Duke Assistant Coach Nate James, Chris Carrawell and Chris Spatola.  In short, there will not be a lot of down time.
Duke will play up tempo in the coming season with a sleek point guard named Kyrie Irving who will almost certainly run the team from day one.  With the likes of Irving and Nolan Smith pushing the ball, Mason should have lots of opportunities for easy baskets off cuts.  And of course, nothing brings the Cameron Crazies to their feet like a thunderous and emphatic dunk.
Only time will tell just how good Mason Plumlee will be but there are few people that would tell you anything other than he should flourish in the 2010-11 season.  If Duke is to make another run at the title, Mason will have to be at his best and all signs point to the fact that he will certainly put in the work and that in itself should excite the Blue Devil Nation.