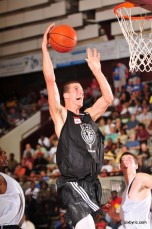 It didn't take long for Nolan Smith to pick up where he left off during Tuesday evenings N.C. Pro Am at N.C. Central University.  Smith was averaging 38.5 ppg coming in and the rising senior wasted little time in asserting himself slashing through hapless defenders on a variety of dribble drive, stop and juke moves.
Smith closed out his 2010 Pro Am career with 28 points to go with 5 assists, 2 steals and 1 blocked shot.  Smith will join the U.S. Select team for more training and he will be flanked by fellow team captain Kyle Singler in New York.
While Smith was once again the star of the game he had help from another teammate and his brother who will be a high school senior this coming season.  Mason Plumlee sat out the entire fourth quarter when he tweaked his ankle but still tallied 14 points and 7 rebounds.
The most impressive stat for Plumlee [Mason] were his 3 steals which all led to baskets.  In one sequence, he stripped an opposing guard and then threw down a tomahawk slam.
Team Dreamworks also featured future Dukie Marshall Plumlee [14 points] who had his most impressive game of the event.  A relaxed Plumlee [Marshall], showed good up and under moves around the basket to go with a good turnaround jump shot.  He plays hard at all times and as he gets stronger, he'll certainly one day be a factor for Duke.
Dreamworks ended up walloping Body of Christ 87-76.  Justin Thomas scored 22 points for the losing team and he matched up with Mason much of the contest.
In the next contest D-One defeated Lucky 7 75-61 where Duke prospect Quincy Miller led the way with 19 points, while Ryan Kelly added 13, Deuce Bello 8 and Andre Dawkins 6 for the winners.
Kelly dished out several assists to his teammates including three to Miller.  Kelly also showed a nice one hander push shot in the paint.
The Blue Devils weren't finished.  Kyrie Irving led all Duke scorers with 31 points leading Hendrick's to a 89-79 win over Team Jamison.  Irving blew by defenders when he wanted to and dished unofficially 12 assists.
"It's my job to see the court well," said Irving after his contest.  The New Jersey native was obviously having fun.  His teamate Josh Hairston was most effective on the evening as well.
Hairston added 16 points in his best overall performance of the event.  The highlight came when he threw down a strong slam in the open court where he was challenged by Miles Plumlee.
The play lit Hairston up like a Christmas tree as the crowd showed their approval. Hairston was all smiles but if you play the game enough, everybody gets posterized on occasion.
That play seemed to light a fire under Plumlee [Miles] who had just 3 points at half time.  The next player who challenged Miles got his shot swatted back past half court as he erupted for 18 second half points which translates to 21 for the contest.
While Hairston showed a soft touch on his perimeter shot, Miles showed off his ability to throw down dunks like it was a two inch putt.  But another Devil, Seth Curry also had a big night.
Curry showed off a great stutter step and stop and go moves to free up for shots on his way to 28 points.  Curry has a variety of smooth moves and plays in a word silky on the offensive end.
Quincy Miller and Deuce Bello also participated in this game where they played with Miles and Curry.  Miller scored 13 points while Bello added 6.  Both players showed off their immense potential making plays during their two games.
Miller and Bello still list Duke on their lists.  Miller lists Kentucky, Louisville, Duke, Wake Forest, Oklahoma, Texas and Baylor in that order.  Bello lists Baylor, Louisville, Miami, Duke, Wake Forest and Clemson. 
Bello said their could be a package deal but that each of them would do what is best for them.  Brian Clifton was in attendance as well and it seems as if there decisions ill come quite late in the process.
The games will continue this Thursday through Sunday when two teams left standing faceoff for the title.  According to sources, the UNC players will return during the playoffs while many of the Duke kids are done for the season.
Mason and Miles Plumlee will serve as councelors at Adidas Nations in Chicago while their brother Marshall will participate in the event.  The trio leaves Thursday for the event.
Nolan Smith will join teammate Kyle Singler on the U.S. Select Team in New York this weekend as well.  The dynamic duo will be gone for the better part of a week while Coach Collins and Krzyzewski begin a 40 day jaunt with the U.S. National Team.
Singler did not appear in any of the Pro Am games this season and Tyler Thornton while not there last evening is expected to return.  As the games draw closer, we'll let you know which players are expected to show, so stay tuned to BDN for our annual N.C. Pro Am coverage.
Follow BDN on twitter and Facebook for constant updates on all things Duke. Join BDN Premium for full site access.