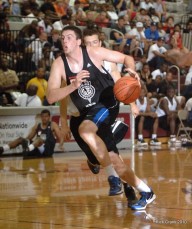 The North Carolina Pro Am is closing out it's 2010 campaign this weekend as the teams participate in the play offs.  On Friday evening, three Duke players helped their teams advance to the Saturday rounds.  Seth Curry scored 14 points to go with 4 assists and 3 steals which helped Team Jamison defeat Team Navy 61-46.
The game also featured a up and coming star in Durham Hillside's Torian Graham who has mentioned that he wants Duke and UNC to take a look at him.  He is already a key early target for N.C. State.  Southern Durham alum and current Miami Hurricane Julian Gamble led Team Jamison with 22 points.
In the evenings best game D-One held off Lucky 7 behind the play of Ryan Kelly [22 points] and Andre Dawkins with 20.  Kelly continued to show his off season improvement and he went up against Josh Powell for the evening.  Powell finished the game with 15 points and Courtney Fells added a team high 19 for the losers.
Andre Dawkins had just 3 points at the half, but a second half surge helped him end the game with 20.  The Pro Am action continues today with the championship game being played Sunday afternoon on the campus of N.C. Central.