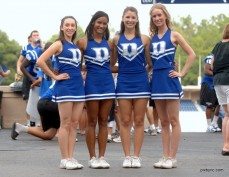 There is a lot going on in the Duke Athletics world these days and in this version of Monday Musings we'll take a look at those happenings.
Football set to kickoff against Elon
The Duke Football team kicks off their 2010 season this Saturday at 7:00 in Wallace Wade Stadium and we are very excited here at BDN.  It's important for the Blue Devils to get off to a good start with a win and they'll need fan support, so turn out for the opener.  In the meantime, check out our latest football article, which takes an in-depth look at the depth of this season's team.  I will be at tomorrow's final press conference to bring you Coach Cutcliffe's comments, and we'll be churning out material all week long leading to the start of the game.
BDN Premiums Elite 24 Coverage
I've said many times before that there is no off-season for basketball, especially recruiting, and BDN Premium is bringing its members what they want.  BDN covered the Boost Mobile Elite 24 event in Venice Beach, California and updates appeared on our message board with the information you covet way ahead of the curve.  There is already an interview posted with Alex Murphy and today we released one with the latest on coveted recruit Austin Rivers and we've just scratched the surface.  Later this week we'll release interviews with several key recruits, both from the event and other channels.  It's a good time to join BDN Premium, for the information is timely and hot and, as always, BDN is there in person to bring you genuine eyes on coverage without the smoke and mirrors effect.  While some others talk about two weeks old non-news and rumors, we attempt to keep it fresh by covering all the major recruiting events and addressing what is going on with key prospects.
BDN is not just a pay site
One of the things I learned while taking a well-needed break at the coast to refresh myself before the football season this weekend is that many think BDN is a pay only site.  This is far from true -- we offer a lot of free articles and recruiting information via our popular Twitter site.  We will address the issue of distinguishing premium and free offerings by inserting a flag in the title letting you know if it is a premium or free article.  This will start some time in the near future.
Team USA rolling right along
Coach Krzyzewski has Team USA rolling right along and it is just another bit of excitement surrounding Duke Athletics at the moment.  BDN has always covered the USA Basketball scene and we'll continue to do  so.
So stay tuned to BDN for complete coverage of the Duke Athletics beat and feel free to let us know what you think of our site and offerings for we are always here to listen.
We're number one
Pre-season basketball magazines will hit the stands in the next week or so and Lindy's already has Duke tabbed number one in the nation with Kyle Singler being the pre-season POY.
Next up on BDN Premium -Shabazz Muhammad, Myck Kabongo, and so much more.  Thanks for following Blue Devil Nation.