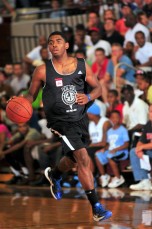 There is always a lot going on if you cover Duke Athletics and as a busy summer around here gives way to September, Duke Football hits the field.  In fact, they hold their first practice this evening where Coach David Cutcliffe will continue to work on getting the Blue Devils to a bowl game.
Duke is picked fifth by the ACC media in their division which features in my opinion, the four best teams.  In fact all of the teams ahead of Duke are ranked in the season's first Top 25 poll.  Before Duke worries about Virginia Tech, Georgia Tech, North Carolina and Miami, they will focus on the business at hand which is the opener against Elon.
They will then turn their attention to an early season ACC battle on the road at Wake Forest before coming home to face the nation's number one team in Alabama who returns a ton of talent including last years Heisman Tropy winner Mark Ingram.
BDN will attend practices to bring you our usual coverage, so if you are a football fan be sure to bookmark the Blue Devil Nation.
John Wall and company fall to  Wheel Chair All Stars
Where else can one find the NBA's number one draft pick, John Wall playing hoops in a wheel chair?  The answer is at the N.C. Pro Am, an event that wrapped up another strong season this past Sunday
Wall was unable to participate in a real game due to contractual obligations with the Washington Wizards but he told BDN that he wanted to see what it was like to play without the use of his legs to give him a better understanding of the plight some must go through.
Area participants filled the wheel chair game earlier and Wall joined C.J. Leslie and others to take on the all stars from the first contest.  Several crowd pleasing moments ensued, bringing some light moments.  In the end, Wall and company shot all clankers and were handed a 15-0 loss.
Also there promoting his foundation, Rodney Rodgers, the former Wake Forest star and Durham native spoke to the crowd about his hope to walk again against all odds.  Rodgers was also able to shed light on his foundation which can be found on line by a simple google search for those interested in supporting his cause.
Blue Devils solid at the Pro Am
We'll touch on the N.C. Pro Am's final day a bit here, but an article will follow.  In short, all of the Blue Devils had their moments in the event and we will break down our thoughts on each player in the coming week and talk of off season improvements.  BDN has covered this event since it's inception and will continue to for we feel it is a very positive and good experience for Triangle area fans.
Recruiting
We will focus on Duke Football recruiting more and more now that the dust has cleared on a few things we have been working on behind the scenes.  Cutcliffe and company have the bulk of their allotment filled but there are some key recruits we'll keep an eye on down the stretch.
Basketball is on somewhat of a hold with Coach Krzyzewski and Chris Collins doing duty for Team USA.  Of course, Duke's Kyle Singler and Nolan Smith are with them for now in New York but they will return in a week or so, yet the coaches will be gone another month or so.
As for the Austin Rivers watch, I can tell you that he will not do a thing before the Duke coaches return, so the daily watch to see what he eats for breakfast to provide a sign is fruitless.  We will have an interview up shortly with Amile Jefferson to update his recruitment and will have more on other targets as well.
Vincent Rey makes his mark with the Bengals
Duke will sorely miss linebacker Vincent "Vinnie" Rey this coming season but the Devils loss could be the Bengals gain.  Rey had five tackles in Cincinnati's 16-7 loss to the Cowboys in the NFL's pre season opener.  BDN will keep an eye on his play as the pres season progresses.
Video coming to BDN
We wanted to refine things a bit before we moved into video and in the coming months you will get a taste of vids BDN style.  We are in negotiations with three different service and will inform you when the dust clears.
In closing ...
I admittedly am not a big fan of sites like Bleacher Report where anybody off the streets can pen something good or bad on their team.  Most of the time little research is done on these sites and opinion is often stated as fact, but I think Justin McTeer is the exception and he has a nice piece up on Seth Curry so check it out here.
We'd also like to encourage Duke fans to visit Duke Update and Duke Report, two solid link sites for all things Duke.  Duke Update is one of the original Duke Sites on the net where Jason D'Amico works it as a labor of love not taking one dime from advertising.  Duke Report is the new kid on the block, but they do a great job as well and BDN enjoys working with these two sites.