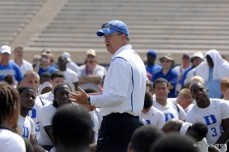 Optimism surrounds Duke Football as the third season under Coach David Cutcliffe is set to commence. The Blue Devils will take to the practice field on Monday having won nine football games in Cutcliffe's first two seasons, an accomplishment which may not impress a casual observer, but for a program which won only eight games over the five seasons prior to Cutcliffe's arrival, it signifies significant progress toward reestablishing pride in a program which has deep historical success.
Duke has played in eight bowl games including six New Year's Day games between 1939 and 1961 (actually two of the games were played on January 2nd). Those six New Year's Day bowl appearances include two trips to the Rose Bowl and Orange Bowl, and one trip to the Sugar Bowl and Cotton Bowl. Duke achieved a 2 - 4 record in those six games:
- Rose Bowl (January 2, 1939): Wallace Wade's famed Iron Dukes enter the game against Southern California undefeated, untied, and unscored upon. Duke holds a slim 3-0 lead when the Trogans scored on an 18 yard pass with 40 seconds left in the game to secure a 7-3 victory.
- Rose Bowl (January 1, 1942): The game is played at Durham Stadium (renamed Wallace Wade Stadium in 1967), due to a ban on large crowds on the West Coast, in the aftermath of the Japanese attack on Pearl Harbor less than a month earlier. Oregon State defeats Duke 20-16 in a thrilling game before 56,000 spectators.
- Sugar Bowl (January 1, 1945): Coach Eddie Cameron's Blue Devils roll up 336 yards of rushing in a 29-26 victory for the Southern Conference Champions over the Alabama Crimson Tide.
- Orange Bowl (January 1, 1955): Returning to bowl action, after a 10 year absence, ACC Champion Duke rolls over Nebraska 34-7.
- Orange Bowl (January 1, 1958): Oklahoma converts six Duke turnovers into touchdowns enroute to a 48-21 victory over the Blue Devils.
- Cotton Bowl (January 2, 1961): the Blue Devils march 73 yards to score with 2:45 remaining in the game to notch a 7-6 victory over the Arkansas Razorbacks.
While returning to a New Year's Day bowl game, or more accurately stated in today's vernacular a trip to a BCS Bowl, is definitely a future goal, the immediate objective for Blue Devil fans is to see their team qualify for any bowl game. Duke hasn't been to a bowl game since a January 2, 1995 appearance in the Hall of Fame Bowl, in which Wisconsin defeated Duke 34-20. Duke's last bowl game victory was the 7-6 win over Arkansas, in the Cotton Bowl, on January 2, 1961.
Coach Cutcliffe has the background to lead Duke to bowl game success. At Mississippi, he compiled a 44-29 record and coached the Rebels in five bowl games, over seven seasons, rolling up a 4-1 record, including a 31-28 victory over Oklahoma State in the Cotton Bowl. Current New York Giant quarterback, and Super Bowl XLII Most Valuable Player, Eli Manning was the signal caller for Mississippi in that Cotton Bowl victory. As the Offensive Coordinator at Tennessee, Cutcliffe coached Super Bowl XLI Most Valuable Player Peyton Manning as well as Heath Shuler and Erik Ainge.
Coach Cutcliffe's success with quarterbacks is a major source behind the current optimism in Durham. Projected starter Sean Renfree has the skills to excell as the leader of an offensive unit with the most talented receiving corps in the Atlantic Coast Conference. Renfree completed 34 of 50 passes for 330 yards and four touchdowns as a backup to Thaddeus Lewis last season. Renfree, who redshirted in 2008, has been being groomed by Cutcliffe since his arrival in Durham.
Taking a look at the talented receiving corps, junior Donovan Varner was a preseason All-ACC selection, while sophomore Conner Vernon earned First Team Freshman All-America honors last season. Duke's third wide receiver, senior Austin Kelly, caught 54 passes for 645 yards in 2009. Seniors Brett Huffman and Brandon King give Duke experience at tight end, while redshirt freshmen Tyree Watkins and Corey Gattis provide depth at wide receiver.
Another reason for the optimism in Durham is the potential pay-off from the strategy of redshirting players over the first two years of Cutcliffe's regime. This season there will be 10 redshirt sophomores and 17 redshirt freshmen on the roster. The redshirt strategy provides a program with depth and experience which are critical elements to competing at the Division 1 level. The Blue Devils should start to reap the benefits in 2010.
Duke faces a couple of tough challenges in the quest to qualify for a bowl game in 2010. First, the schedule is very tough. Second, the team lost many key players off last season's squad, especially on the defensive side of the ball.
In the USA Today preseason Top 25 coaches' poll, five Duke opponents show up in the Top 20: Alabama (1), Virginia Tech (6), Miami (13), Georgia Tech (17) and North Carolina (18). Additionally, Navy (38) and Boston College (40) show up in the other teams receiving votes section. With seven of 12 opponents being amongst the 40 best teams in the nation, Duke will need to be ready to play at their best each and every week of the season.
On defense, with the departure of starters Vince Oghabaase (DT), Vincent Rey (LB), Leon Wright (CB), Ayanga Okpokowuruk (DE) and Catron Gainey (S), new Defensive Coordinator Marion Hobby must devise a strategy which accounts for the Blue Devils youth and emphasize speed. The performance along the defensive line will go a long way toward predicting the success of the defensive unit. As the defensive line goes, the Blue Devils go.
The 2010 season will be a challenge as the Duke Blue Devils attempt to turn the corner under the tutelage of Coach David Cutcliffe. In the end, success will depend upon multiple factors, some of which are fickle, but as the season rapidly approaches, optimism is the noun best associated with Duke Football.