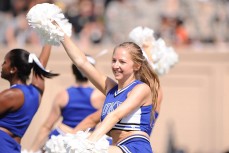 Good Morning Blue Devil Nation!  It's a rainy day here in the Triangle but that will not stop another edition of Monday Musings.
Basketball is here
When Duke has struggled in football there has been an on going blurb that hoops starts quicker in Durham than anywhere in the country.  Well, when you are the reigning national champion and have a long tradition of kicking butt on the hardwood, return Nolan Smith and Kyle Singler and add Kyrie Irving to the mix, the football team could be 4-0 and the excitement would still be there. 
Countdown to Craziness
You can get tickets to this cherished event by hitting up the Duke Box Office on October 6th and I expect tickets will go quickly.  The event itself is on October 15th and if it is anything like last years and we here it is, it'll knock your royal blue socks off.  I've been around the program for a very long time but I can honestly say that this is as relaxed you'll ever see the coaches and players.  It's a night to celebrate all things Duke but this year, you'll see the new national championship banner making it even better than last seasons event.  Extreme intimacy permeates Cameron Indoor Stadium and you'll be flush with royal blue leaving the event stoked for what should be another great season.
Recruiting continues
Duke will be in home with point guard Quinn Cook tonight and they've made their rounds of late.  We've listed attendees for CTC and talk of recruiting non stop on BDN Premium, so why not join our dedicated members and chat about the latest happenings.
Excitement surrounds the Women's team as well
We'll preview the Duke Women shortly and their is a ton of excitement surrounding the best recruiting class since Alana Beard and company.  This years team will be a mix of young and old and that should make for some exciting moments.  BDN supports the women and will even cover their recruiting in the future, a first among sites.
Football needs some breaks
Duke Football simply needs a few things to go their way on the field against Maryland this weekend where they open as 7.5 underdogs.  The Terps match up very well with this years team, so to win, Duke will have to cut down on those five turnovers against Army.  The Duke defense is rebuilding and the offense needs to take care of the ball and if the team can just get a couple of breaks their way, they can ride those and good things will start to happen.
Kyrie Irving
Well there has been little hype surrounding the New Jersey native these days.  Yeah, right.  It's the fact that Irving is a smoking point guard that has fans excited for he is the best they've had at the position since another Jersey native.  Still though, I think one should temper their expectations for there is a learning curve no matter how talented you are and Krzyzewski alluded to that in a recent press conference.
Pre Season Magazines
Duke is everybody's number one with the exception of TSN who tabs Michigan State, a  team that visits Cameron in December.  Don't be so harsh on Mike DeCourcey thought for he is just trying to be different and this has been their practice in the past when their is a consensus favorite.  There was a time when preview magazines were a big deal and fans would wait their arrival but times have changed thanks to the Internet.  I like a traditional hard copy on occasion but they increasingly come out so late that there is no news we do not know about in them.  Blue Ribbon is a great preview but I am not going to plunk down the bucks to read it when the season starts a week after it hits the stands.  The same goes for those glossy overpriced yearbooks where there is little information fanatical fans do not already know.  I see them more as collectibles these days and if I want to read a preview, I want to do it before Countdown for Craziness and not after.  I highly recommend the championship commemorative put out by Duke Planet though.  It's well worth the money and serves as a reminder to a magical season.  The rest is on line and articles of Duke Basketball are a dime a thousand these day, up a lot since they were a dime a dozen.