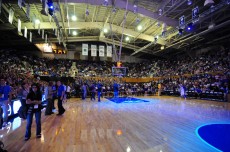 After a long hiatus, BDN's Monday Musings returns, and there is a lot to talk about with respect to Duke Athletics. To say this is a big week is an understatement. Duke Basketball will hold its annual Countdown to Craziness on Friday evening followed the next night by a prime time football game with archrival North Carolina, where a win would snap a long losing streak in the series and gain the Blue Devils bowl eligibility.
Basketball season is here!
The mens basketball team has started practice, and that always means excitement in the air among Duke fans. Coach Mike Krzyzewski seems as pumped up as ever as he enters the season with a record 927 wins, and he will close in on other marks as the year progresses. His teams have been ranked in the AP Top 10 a total of 425 weeks, and this year's first poll should make it 426. The Blue Devils return 10 letter-winners from a year ago, so there is experience on hand, and the team has received an infusion of talent with the additions of redshirt freshmen Alex Murphy and Marshall Plumlee, who join true freshmen Amile Jefferson and Rasheed Sulaiman.
A couple of early injuries
As you may have heard, Marshall Plumlee is in a walking boot with a foot fracture, but the prognosis is unknown at this time.  Seth Curry is nursing a minor injury as well, and is close to being able to go 100%. Most football programs are mildly evasive in providing news on injuries these days, and basketball is becoming no different.
Early high praise for Mason Plumlee
Blue Devils fans needed a shot in the arm at the end of last season after the upset loss to Lehigh in the NCAA Tournament and the departure of Austin Rivers, who entered the NBA Draft after his freshman campaign. They got that lift when Mason Plumlee spurned the league for another year to return for his senior season at Duke. Plumlee has earned high praise early on from Duke Coach Mike Krzyzewski, who has made no secret that he expects big things from the multi-talented big man. Expect a larger role for Plumlee this year, and look for the Blue Devils to establish his game early on.
Who will run the point?
Actually, it is still likely to be done by committee. Many hope Quinn Cook steps up in his second year and takes over the role, but he will share time with Tyler Thornton, Rasheed Sulaimon and maybe even Seth Curry. Cook improved leaps and bounds in the off-season and his confidence and game are where they were when I first saw him on the AAU trail in his junior season in high school. Thornton has improved his quickness, and he is a calming influence on the team with his cool play. Sulaimon has the ability to be the best on-ball defender from the guard spot, and Curry has run the position before and if necessary can do so again. But in the end, Blue Devil fans will look for Quinn Cook to earn the major minutes.  Only time will tell if that happens.
Countdown to Craziness
This is one of the more fun events of the year, where the Blue Devils let their hair down for the last time before getting dead serious and focusing on the season, where early challenges against tough opponents abound. Countdown to Craziness is a celebration of Duke Basketball, where the team comes out to their song of choice during a raucous introduction and comedic skits are seen via video on the scoreboard. Then there is the Blue/White intrasquad game, giving fans a chance to see some action. It's a great event and one BDN will cover as always, so check back in for coverage. Tickets are still available at reasonable prices at GoDuke.com.
North Carolina at Duke
Both teams come into this weekend's prime time football game with 5-2 records, including 2-1 conference marks, but the Tar Heels have owned the series of late, and they opened as a 10 point favorite in this one. For the Blue Devils program, nothing would be finer than to see Carolina finally go down, and if the goal posts did not follow, there would be disappointment. A win for Duke would not only snap the long light blue winning streak, but it would also mean Duke is going bowling. Yeah, it's a big one, but tickets are still available for it, so why not make a Duke weekend of it by having a blast at Countdown to Craziness and then coming back the next night for some serious -- and meaningful -- football?
Can Duke Football bounce back?
After holding a 20-0 lead over Virginia Tech this past weekend, the team simply collapsed, allowing 41 consecutive points to a team which handled this week's opponent (North Carolina) with ease. The main concern I have is that the team almost seemed to mail it in once adversity struck, and could never find its way back. There have been times this season where I think the Duke team is better than the players realize; they need to believe they can win and deserve to win some ACC football games. Coach Cut has done a terrific job in rebuilding, but there are still important lessons to be learned, and patience is needed.
Duke Hoops in Fort Bragg
The Duke Men's Basketball team is practicing at Fort Bragg today.  You can tune into ESPNU at 1:00 to see the practice.