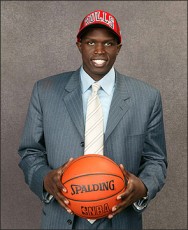 I hope you guys caught the opening game of the NBA Eastern Finals last evening for former Duke players Luol Deng and Carlos Boozer both helped Chicago to victory.  In fact, the Bulls crushed the much ballyhooed Heat, led by Dwayne Wade and LeBron James.  And even a tremendous effort by Chris Bosh couldn't sidetrack the Bulls who are 4-0 versus their opponent this season.  CBooz had 14 points and 9 rebounds in the win, but it was Deng who was the most impressive with a team high plus 18 rating.  Deng finished with 21 points, 7 rebounds,  4 steals and 0 turnovers.
One thing you can count on in big time college athletics is the fact that recruiting is a year round affair.  We're big time recruitniks around here, so that's okay by us.  Andrew Slater kicks the week off for Blue Devil Nation Premium members with another one of his in depth interviews.  His subject, Nerlens Noel is one of the studs in the top heavy class of 2013.  Duke is as you know, interested in Jabari Parker and Julius Randle as well and members will have heard from all three in the coming days.  In short, three of the top five prospects are on the Dukies radar.
The likes of former Duke greats Christian Laettner, Grant Hill and Jason Williams will be in Durham for Coach K Academy IX which runs from June the 1st through the 5th on the Duke campus.  The event is one of those once in a liftime deals where campers for a price can bond with Duke Basketball is a most special way.  For more information call the Duke Basketball Legacy Fund at (919) 613-7501.  And you can bet BDN will be on hand to talk with some of the former players, so you can look forward to that.
The Duke Men's LAX team holds off a furious Delaware rally to advance in the NCAA Tournament.  The womens tennis team advance as well sweeping Yale.  And for recruiting?  Here are the newbies for the Duke Women's Volleyball team.
Duke Football is lining up prospects for their camp as well and you can bet that we'll bring you coverage via Patrick Cacchio.  Football recruiting news is something we take seriously and we are supportive of the program as they continue to build under David Cutcliffe. Our premium football message board is growing and you can always count on updates there from those who follow the program closely.  Be it the jam packed with inside information  "Football Friday," articles or coming interviews with true prospects, BDN is the place to be for football.  While we are on football, check out Al Featherston and his take on the Blue Devils efforts to build a running game.
Here is an excerpt from Lindy Brown where he tells of some of the latest news on two incoming stars for the Duke womens hoops team -
The honors keep coming in for two future Duke women's basketball standouts -- Elizabeth Williams and Amber Henson -- as the duo were selected Parade Magazine All-America on Sunday.  A 2011 Morgan Wootten National Player of the Year selection, Williams averaged 18.9 points, 11.4 rebounds and 5.1 blocked shots for Princess Anne H.S. She was named MVP of the McDonald's All-America contest as she set a single-game record with 23 points to go along with a game-high 11 rebounds. Williams, who is from Virginia Beach, Va., led the USA Basketball U-17 team to a gold medal at the 2010 world championships while averaging 13.5 points and 7.6 rebounds."
To read the full article go to GoDuke.com.  Thanks for checking in with BDN.