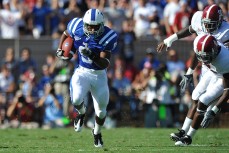 I would imagine that Duke is still reeling from their 62-13 defeat this morning but all they can do is go back to the drawing board and prepare for an Army team that will present the usual problems an option brings to town.  In this weeks Sunday Morning Quarterback column we touch on positives and concerns.
Did Josh Snead have a breakout game?
There were few bright spots for Duke during yesterdays shellacking but Josh Snead was one of them.  A true freshman, Snead, rushed for 83 yards on one of the nations toughest defenses.  Snead   ran up 103 yards on four kickoff returns as well.  We'll see if Snead can consistently bring that kind of performance as the season goes on and he is surely a player to watch closely when Army rolls into Durham next week.  Mark my words, you will see several articles on Snead this week.
The defense is just plain punch drunk
Duke starts a lot of youngsters on defense and it shows.  There is no Michael Tauliliili or Vincent Rey to plug the middle and make big plays.  In fact, this is a unit without that kind of talent up front and opposing backs are into the secondary before the echo of the QB's cadence is gone.  It is no secret that their confidence has been rattled after letting up 133 points in their first three games.  Cutcliffe and his staff must find a way to help them gain their confidence back.  Too many missed tackles are leading to big plays which forces the offense into constant situations where they have to score.  They get to face the option this week as Army rolls in after a shutout victory over North Texas.
Is Army a must win?
I normally like to stay away from claiming a game is a must win but I am afraid that if Duke loses this game, a long season of growth is in store.  So, in short, the Army game is absolutely a needed win for this teams confidence.  They are no Alabama, but Army is no push over this season and they know a win over Duke would boost their bowl hopes.  On the other hand, a Duke loss would cripple any bowl hopes for the Blue Devils.   Duke isin  desperate need of a win, plain and simple.
Alabama took Conner Vernon out of the game
Alabama put their best defender in Dre Kirkpatrick on Vernon but he saw plenty of double and even triple teams at times.  In fact, all of the wideouts had long days from crushing hits to a few untimely drops.  The good thing is that Vernon never quit nor did the rest of the Blue Devils.  Duke will be better from the experience of playing lock down cover guys the rest of the season and there are plenty of touchdown receptions ahead.
Coach Cut has been preaching physical play
My thinking is that Cutcliffe saw that Duke was undermanned physically at certain positions in the pre season and he has preached aggressiveness and physical play in practice.  The Blue Devils are perhaps too young at certain positions forcing players into game action before they are physically mature.  Okay, I am talking the defensiveside of the ball and unfortunately you cannot fast forward natural physical development.
The atmosphere was top notch
Wallace Wade was transformed for the Alabama game and fans indeed packed the place with not a seat in sight before kickoff.  Promotions went down just fine and there didn't seem to be any major problems.  Kudos for Duke keeping this game in Durham and despite the loss it still provided a unique experience for fans and one they'll remember.  But as usual, a big throng of students left at the half.
Alabama fans friendly and in awe
While strolling around before the game, I was asked like ten questions from the visiting fans and I was glad to help them out.  It was kind of funny seeing their fans a few hundred at a time in Cameron.  Many of there fans were in awe of the facility, taking pictures and sitting in the old girl trying to imagine what a game was like there.  There fans seemed very cordial and several commented on how unique the campus was.  Hey guys, schedule Duke in hoops and we'll show you what it's like.  We'll be as gentle as you guys were on the football field.
Growing pains
In Cutcliffes third year, Duke is experiencing some growing pains while they rebuild at certain positions.  All is not lost and a win can cure many ills.  It is important for Duke fans to show their support during the tough times for they cannot see everything which goes on behind the scenes and this team will continue to work hard to achieve set goals.  The program had to dig itself out of a deep hole and as the young players gain experience, Duke will compete and win some games.
Recruits a plenty at the game
Duke had a bunch of prospects at the game and it is true that they saw Duke get walloped by Alabama.  Keep in mind that Cut has played against 25 or so Tide teams in his career and he stated this was the best of them all.  The perception that a game like this hurts recruiting is wrong for these kids know Duke is moving in the right direction and they know Alabama is good.