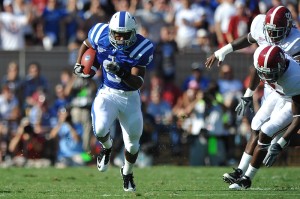 BDN exchanged the following Q&A with the Birddog Blog in anticipation of Duke's matchup with Navy in Annapolis.
BDN: Coming off a 9-4 season in 2009 and an impressive bowl win against Missouri, what were your expectations for Navy this season? How would you evaluate the season so far?
BB: My expectations don't change much from year to year. A lot of people saw that win over Missouri as a springboard for a run at a BCS game in 2010, but most of those same people thought the team was doomed after losing to Hawaii and looking sort of sloppy against Army a few weeks earlier. So much can happen over the course of a season that I've always found predicting records beforehand to be kind of pointless. I generally expect the team to win more than they lose, and go from there. In that sense, Navy is right on track at 5-2. Losing to Air Force was definitely a disappointment, but other than that it's been pretty much business as usual for Navy.
BDN: Some coaches and media members have been outspoken regarding cut blocking in college football. I have read some of your blog posts on cut blocking and defending against the cut block, and think that you raise some important points. Can you summarize your thoughts on this issue for our readers?
BB: Every team cut blocks, even the ones with coaches who complain about it. It's the most effective way to get a defender on the ground. Blocking at the legs is no more dangerous than tackling at the legs, and I don't hear anyone calling to make that illegal.
Nobody seemed to care about cut blocking when Navy was losing. Now all of a sudden it's an issue.
BDN: From what I've seen, the Midshipman have struggled when they fall behind early, which was the case against Maryland and Air Force. How would you suggest a team prepare for Navy and the option offense? Is an early lead and a good offense really the best defense?
BB: Navy fell behind in every game other than Notre Dame and Georgia Southern. People seem to think that once an option offense falls behind, it's impossible to come back. It just isn't true.
The best way to prepare a defense to face an option offense is to focus on winning individual matchups and confusing the quarterback. There is no magic scheme that Navy's coaches can't adjust to. The most successful teams either beat their blocks and make plays behind the line of scrimmage, or they give the quarterback a variety of stunts and reads to force him into making a mistake.
BDN: Army was able to open things up with a few big passing plays against Duke. Ricky Dobbs is averaging over 17 yards per completion for Navy this year; what have been the keys to the success through the air?
BB: Option offenses tend to create a lot of one-on-one matchups in the passing game, especially since defenses are forced to involve their secondaries in run support. Navy doesn't pass very often, but when they do it tends to be for maximum effect. That leads to the lofty per-completion averages you see from Navy QBs and receivers. There's more to it than just scheme, though. Navy has thrown the ball fairly well this year, and I think it's for a few reasons. First and foremost, Ricky Dobbs is just a better passer than a lot of people seem to give him credit for. Second, though, is that the Navy offensive line is playing better this year. Navy is always near the top of the list for fewest sacks per game, mostly because they also throw the fewest passes. If you measure the number of sacks per pass attempt, though, Navy has usually been terrible, averaging a sack for every 5-9 pass attempts over the last 5 years or so. This year, the line only averages a sack every 11.4 pass attempts. That still isn't the greatest, but it's a significant improvement over previous seasons.
BDN: Duke and Navy have played fairly even over their past few meetings. What do you expect from the 1-6 Blue Devils on Saturday?
BB: It's hard to know how a team is going to react to being 1-6. Will they come out fighting, desperate for a win to break their slide? Or will they look worn out and beaten down, just puching the clock until the end of the season? Duke's mental state will be as much of a factor in this game as anything.
Offensively, you know what you're going to get out of a David Cutcliffe team; 30-40 passes and 20-30 runs per game, and lately, a couple of interceptions thrown in for good measure. Turnovers are especially damaging against a team like Navy that likes to control the clock (the Mids are 5th nationally at 33:40 per game). Teams get fewer possessions per game, making each one more valuable. It puts a lot of pressure on the opposing offense to make the most of the few opportunities they get.
On defense, Duke had a lot of success using the squeeze and scrape against Navy in 2008. The squeeze and scrape is when the defensive end "blocks" the playside tackle, preventing him from getting to the second level. That unblocked linebacker then would go on to make the tackle, usually on the quarterback. How well that plan works depends a lot on who the quarterback is; Navy ran all over Duke with their starter in the first half, then came to a grinding halt in the second half with the backup under center. Notre Dame tried the same thing last year and lost. I doubt Duke will use the same plan.