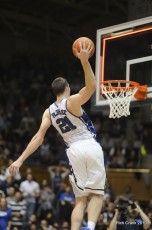 Make no mistake that tonight's game with Marquette will be the Blue Devils first real test of the season.  The Golden Eagles have enough pieces to field another solid ball club and should place in their sixth straight NCAA Tournament come March.
The Golden Eagles are led by Darius Johnson-Odom [13.0 in 2010]and Jimmy Butler a 6-7 frontcourt player who anchors their front line.  They also return solid veterans in 6-7 senior forward Joseph Fulce [questionable for tonight] and guard Dwight Buycks. 
But there are two talented freshman and a JUCO to go with the four vets.  Jae Crowder was the JUCO Player of the Year [NJCAA] last season where he led Howard College to the national title.  He is joined by Vander Blue a consensus top 40 prospect who played on the Gold Medal winning USA U-18 squad and fellow freshman Jamail Jones who put up numbers of 16.1 ppg and 6.3 boards in high school.
Marquette is 17-3 overall since 2004 in multi team regular season events and they won the O'Reilly Auto Parts  CBE Classic in 2006.
The Blue Devils come into the game ranked number one in the nation but they are still very much experimenting with a new roster and that will continue in the next two days of tournament play.  On paper, Duke is the clear favorite but Marquette is very much a top 25 or better team and they'll make some noise in the Big East.
I'm expecting the teams to get up and down the court if former styles of play take place.  In short, both teams like to run.  Look for Duke to outlast a game bunch and in the process work not only on their break but the half court game in preparation for the winner of the Kansas State-Gonzaga game.  The call here is Duke 83 Marquette 69.  Stay tuned for post game coverage as BDN's Terry Rains is on the scene in Kansas City.  For more on the game check out BDN's Monday Musings