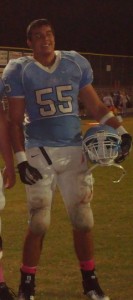 It's no secret that the Duke defense struggled in 2010 and will have to make improvements if Duke is to compete for a bowl in 2011. In order for improvements to be made, Duke will need some more depth along the defensive front, and in-state prospect Lucas Fisher hopes to be able to help. Lucas is a 6'3" 250 pound defensive end from Monroe, North Carolina. Lucas committed to the Blue Devils back in July and recently was on campus for his official visit.
BDN: Can you briefly recap your visit to Duke last weekend?
When I went down there it was just really cool to meet all the guys that I'm going to be up there with, all the players. It really solidified my decision on going there. I'd been on a visit before but not with other guys that I'm going to be there with. The guys that were already there were really inviting, just everything I saw from the facilities just says that Duke is going to be a winning program. They have all the tools. The academic support is there. It just made me feel a lot better about my decision.
BDN: Who were some of the other players you were able to meet while you were there?
Ryan Hall was my host, he's a tight end on the team. I met a few other guys: Kevin Rojas, Dave Harding were a few that I met. I met a bunch of commits, a few that I'm going to be with: Kyler Brown, Carson Ginn, Britton Grier. Those were a few of the guys I met.
BDN: Where do you and the coaches see yourself fitting in at Duke?
They said I'm going to start at defensive end and I'll do my best there. Coach Hobby told me I'll start out at defensive end and could eventually move to defensive tackle, depending on how my frame turns out - if I put on weight fast or not. He wants me to be out there rushing the passer, coming off the edge. I think that will be my role - rushing the passer.
BDN: Were you able to follow Duke's season and what were your thoughts on their year and where the program is headed?
I noticed that Duke was in a ton of close games this year, and they really out-physicaled a bunch of teams. For instance, in the Miami game, even though the score was like 28-14, they really dominated them on both sides of the ball, but turnovers just hurt them. I think they had 5 games that the margin was 6 points or less. They've really been in close games and regardless of wins or losses, it shows that they're competitive and are this close to having a winning record and in the future hopefully an ACC Championship.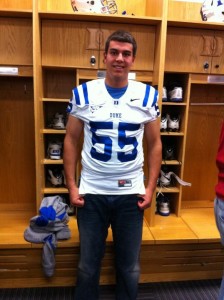 BDN: I know your school had a pretty good season. Can you recap your senior season for us, both for your team and yourself?
Our season was really good. At the start of the year, nobody expected us to be competitive even in the league, much less the playoffs, but we went 11-2 and won the conference championship. That was only the 3rd conference championship in our school's 50 year history, so it was really good to hang a banner up and have something we can come back and see. On the year, I thought I had a good season, I actually got Conference Player of the Year for defense. I thought our whole defense got better the entire year and I think I got better as I got more experience.
BDN: What are your plans for the rest of your senior year?
Right now, I'm just trying to stay in shape. I'm actually trying to put on a little weight. I've been working out every since our season ended, cardio and weights. Just trying to be strong enough so that when I get there I'm not behind.
BDN: When can Duke fans expect to see you on campus?
I'll start during the second session of workouts because I don't graduate until after June 10.
BDN: Thanks so much, Lucas. We look forward to seeing you in Durham.
Alright, thank you.