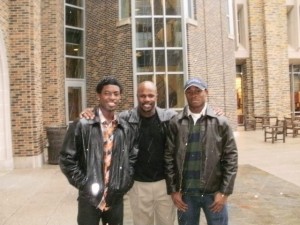 Along with a talented group of offensive linemen, the 2011 Duke recruiting class also features an impressive group of athletes that will bolster the defensive secondary. Among these is Jared Boyd, a 5'9" cornerback out of Stone Mountain, Georgia. Jared was in Durham on an official visit this past weekend and caught up with Blue Devil Nation afterwards.
BDN: Can you briefly recap your official visit to Duke this past weekend?
It was great. I loved all of it, everything from start to finish was great. It was actually a lot more than I expected. I got real cool with some of the guys and I feel like we're really going to bond, which is great. I'm coming there to play, you know, that's a big thing for me, but team is important to me too. I feel like we have a great team and I can't wait to be a part of it. We have a great coaching staff, I mean, Coach Cutcliffe, I can't say enough good words about him. He's a good man and he's going to do good things there. I can't wait to help him and the rest of the coaching staff.
BDN: Who was your host on your visit?
Ross Cockrell was my host.
BDN: They keep the corners together, huh?
Yes sir, and he knows about playing early, too.
BDN: There were some other commits in the secondary on campus this weekend. Can you talk about your relationship with them?
Tim Burton was there and Chris Tavarez. That's a cornerback and a safety there. We bonded with each other from the beginning. I had known Chris because we went to camps with each other, and same thing with Tim. Me and Tim actually were at the San Antonio Combine right next to each other, going one-on-one drills. Me and him were competing against each other the whole time, and it's kinda ironic how we ended up committing to play together for the same team in the future. Chris Tavarez, we actually played his team this year. He plays for Westlake, which is in Atlanta, Georgia. We played against each other and there was a lot of trash talking going on that game, but we beat them pretty good, too. He's a nice guy, so is Tim and a lot of the other guys up there. I just can't wait to be a part of that team.
BDN: How much were you able to follow Duke's season and where do you think the program is headed?
I think we lost 5 games by 5 points or less. There's no moral victories in football, I know that's true, but it says something that we're that close. Just a couple plays in each game and those are wins, easily. We're easily 7-5 or 6-6, things like that. I think that I have a lot to bring. I'm coming to bring some wins and get this thing on the right track. You know, I'm not that worried about what happened this season because when I come in I expect to win regardless.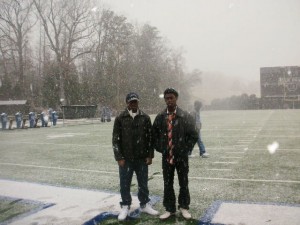 BDN: Where do you and the coaches see yourself fitting in with the Duke defense?
They need a corner, that's what I've been hearing all this time. I've just got to come in there and play my role. There's nothing special I can say. I've just got to come in there and be a baller, come in there and step up to earn the job.
BDN: You played on a very talented team and had a pretty good year. Can you give us a brief recap of your season for us?
We really did. It's kind of unfortunate it ended without us getting a ring, but we had a good season. We ended up 9-2, but were actually 9-0 at one point. Lost the last game of the season and lost in the first round of the playoffs, so that really hurt. I got to play with a lot of good guys and a lot of good talent, so that's going to really help me when I'm at Duke. We've got 10 guys who are D-1 committed already and 5 guys with scholarship offers for 2012, so that's really big to have that much talent on one team. I'm really disappointed that we couldn't put it together, but I'm still rooting for those guys and hoping they get it done next year.
BDN: What are your plans for the offseason? What's next for you?
Next weekend I'm playing in the All-County Game here in Georgia. Then I got invited to the All-World Game in South Carolina, so I'm looking forward to going up there and showing my talents against the best.
BDN: When can Duke fans expect to see you on campus?
Hopefully in May, that's when summer school starts so hopefully I get up there in May and get ready to make things happen.
BDN: Thanks so much, Jared. We look forward to seeing you in Durham.
Thanks, you too. Have a nice day.
Blue Devil Nation will continue to bring updates on Duke football's class of 2011 right up through signing day.