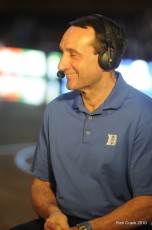 Beginning next year, ESPN will launch a three-year men's college basketball event featuring Duke, Kansas, Kentucky and Michigan State – four of the sport's winningest programs – playing each other from a different neutral site location each year. The Champions Classic matchups will serve as prime time telecasts during ESPN's annual College Hoops Tip-Off Marathon on Nov. 15, 2011; Nov. 13, 2012; and Nov. 12, 2013.
"The unique Champions Classic event brings together four of the all-time best programs and coaches to create a tremendous pillar for the start of the college basketball season over the next three years," said Nick Dawson, director, ESPN programming and acquisitions. "We appreciate the cooperation of the schools for embracing the challenge of playing the sport's premier programs in three great basketball cities."
Champions Classic Schedule
Game times are to be determined
DateMatchupLocation
Tue, Nov 15, 2011Duke vs. Michigan StateMadison Square Garden (New York City)
Kentucky vs. Kansas
DateMatchupLocation
Tue, Nov 13, 2012Michigan State vs. KansasGeorgia Dome (Atlanta)
Duke vs. Kentucky
DateMatchupLocation
Tue, Nov 12, 2013Michigan State vs. KentuckyUnited Center (Chicago)
Kansas vs. Duke
The Champions Classic features:
·                        Three of the top four all-time winningest men's college basketball programs: Kentucky (first), Kansas (second) and Duke (fourth);
·                        A combined 16 NCAA Division I Men's Basketball Championships (since 1939): Kentucky (seven), Duke (four), Kansas (three) and Michigan State (two);
·                        A total of 22 NCAA Final Four appearances in the past 20 years: Duke (seven), Michigan State (six), Kansas (five) and Kentucky (four);
·                        Four teams currently ranked in the top 16 of the ESPN/USA Today poll: No. 1 Duke, No. 4 Kansas, No. 8 Michigan State and No. 16 Kentucky.
Quotes from the four participating coaches:
Duke head coach Mike Krzyzewski: "The Champions Classic is new for college basketball and to be asked to participate with three programs that are at such a high level is indeed an honor for Duke. We applaud ESPN's efforts in having the creativity and foresight to help our sport in such a fashion. It should be a terrific event each year, and we look forward to being a part of it."
Kansas Head Coach Bill Self: "I thought it was a great idea and I think it's great playing on neutral sites. To come back to Madison Square Garden will be great with three other unbelievable programs. I'll bet each of these programs will sell whatever ticket allotment they have — 4 to 5,000."
Kentucky Head Coach John Calipari: "This three-year event is a reward for how passionate these fan bases are for their teams. It's a unique opportunity for our fans across the nation to see us play in three major cities against top-level competition. We are looking forward to the challenge and sharing it with the Big Blue Nation, the best fans in the country."
Michigan State Head Coach Tom Izzo: "Being a part of the Champions Classic is a tremendous honor for our program. These are some of the premier programs in all of college basketball, not only currently, but in the history of the sport. To be included in that group shows that we've been able to sustain some long-term success, and is also somewhat humbling. This event is a great way to tip off the college basketball season and promote our great sport. It's like having a Final Four in November."