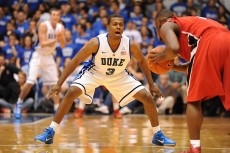 The Duke Blue Devils pushed their record to 9-0 with a 83-48 drubbing of Bradley despite the fact they are missing starting point guard Kyrie Irving.  After the game Coach Krzyzewski said the injury was serious and he would see specialist this weekend.
Andre Dawkins was smoking hot
The soft spoken Andre Dawkins' play screamed on the court this evening as he dropped a career high 28 points and nailed 8 of 14 three point shot attempts.  He was just one shy of the record set by Shane Battier.  It was also Dawkins' first career start at Duke.  His 14 attempts from three were the sixth most in Duke history.
Mile Plumlee goes 7 for 7 from the field
Duke got Miles Plumlee going tonight as the Duke big didn't miss a shot going 7 for 7 from the floor tonight.  He pulled down 4 rebounds as well but his brother Mason led the team with 7.  One of the things Duke wanted to do in the December games was to get Miles going and tonights game went a long ways towards that goal.  Miles earned his second start of the year.
Duke bench solid
The Duke bench outscored their opponent 20 to 5 but in fairness the Braves have had some serious injuries.  Josh Hairston got some burn and threw down 4 points and Seth Curry added the same.  Duke also hope to get Curry going during the December games but he did have 4 assists and 4 rebounds both career highs.
Nolans Smith dishes 10 dimes
Nolan Smith was 0-8 from the floor and 0-4 from the three point stripe but his 10 assists were huge and he was a big reason for getting Miles Plumlee going inside.  Smith's shot was off for sure, but he ran the team well and Duke dished out 22 assists to Bradley's 10.  Look for Smith to go off against St. Louis on the offensive end this Saturday.
Dual PG's to one PG
In the post game Krzyzewski mentioned that he had gone from having two point guards to having one and that effects their game plan.  If Irving's injury keeps him pout for long, Smith will turn into a pure point guard but let's cross that bridge when more results are in.  Duke should grow as a team in Irving's absence.
Panic will ensue
After Kyrzyewski's comments which you will hear in their entirety below, he mentioned that Irving's injury was serious and that he'd see the best of the best to evaluate his toe injury.  Keep in mind that Krzyzewski is going to take precautions with any player who has huge earning potential in the NBA even more-so than normal where he always watches out for his kids.  Expect widespread panic once the morning editions of newspapers hit but it'd be wise to sit back and not think the absolute worst.  Krzyzewski did say he could be out for the year but we'll take a wait and see approach and I, for one, am optimistic he'll be back in the new year.  Call it a hunch. Meanwhile, Duke has three games they should win left on the December schedule.
Coach K's Post Game Press Conference - Just press play -