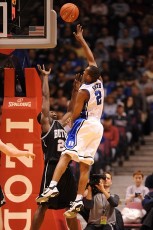 The Butler Bulldogs lived up to their nickname but the Duke Blue Devils wore them down in the second half for a victory.  Duke's guard duo of Nolan Smith [24] and Kyrie Irving [21] combined for more than half of their points with 45 between them.  Kyle Singler added 13 points but was held in check for much of the game.
The smaller Bulldogs grabbed 35 rebounds, the same amount as the Blue Devils, and their hustle and defensive sets bothered Duke until and 11-0 second half run which helped Duke get a comfortable working margin down the stretch.  There were 11 lead changes in the game reminding one of last seasons national championship game which has been deemed one of the best of all time.
Duke looked flat in the early going and they were not matching the intensity their opponents were putting forth, perhaps because of a hangover from playing a break neck early season schedule where they defeated two of the nations pre season top 5 teams.
Andre Dawkins played a key role off the bench and was the Blue Devils only other double figure scorer ending the game with 10 points.  And to give you an idea of the pace of the game, neither team scored off a fast break.
While the Devils were not particularly impressive, they learned from being forced to run their half court offense.  Duke led by as many as 14 points late and Butler held a 5 point lead as well but foul trouble and cramps cost them the opportunity to finish the game with some of their key players.
We'll have more on the game shortly and a photo gallery from the event, so check back in with Blue Devil Nation. Here is a link to the Official Box Score.