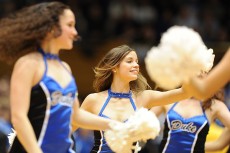 Welcome to another edition of BDN's Monday Musings where we talk of random happenings around Duke Athletics.  It was fun to see the students start to come back in force in Cameron last evening and props to the dance team lasses for filling in for the cheerleaders and doing an admirable job.  On to today's chatter -
Anytime you get an ACC win, it's sweet and Duke moved to 2-0 in conference with last evenings 71-64 win over a pesky Maryland team.  When the Terps come to town, you will always hear "Sweat Gary Sweat," from the Cameron Crazies but last evening, a few Blue Devil fans were sweating along with him, as Duke found themselves trailing by as many as 6 points at home.  But the team itself never seemed too worried, or should I say the staff never fretted, from my vantage on press row. Duke has been in these games before and with 883 wins, this is not Coach Krzyzewski's first rodeo.
For the first time since his toe injury, the media didn't question Coach K on Kyrie Irving's status in the post game press conference.  And last night seemed like the first time the focus turned to the team on the court and that is probably a good thing.  As crazy as it sounds, Irving's toe gets more hits than Duke Basketball itself of late, just ask many of the ACC bloggers who speak of his status on a regular basis, like my pal  Brett Friedlander who writes an ACC Insider column for Star News in Wilmington.  Of course, there was a Seth Davis tweet last night alluding to some sort of breaking news he would share on the "toe' a bit later.  Does he have the "real" scoop?  If he does, he is in rare air, for the real deal is protected like Fort Knox and not the type of fodder which might leak.  Irving has avoided surgery and his mystery injury to be named later seems to be on the mend.  Maybe we are blindly positive, but we think Irving returns to the court down the road.  If I am wrong, I am wrong, but my hunches are usually accurate.  As for the getting into shape questions ... I will take Iriving at 80% any day, eh?
Taking a look at Atlantic Coast Conference stats, you'll see that Nolan Smith leads the league in scoring and assists.  Yep, he's the current heads on favorite to win ACC Player of the Year, but we have a long ways to go. Kyle Singler moved ahead of Jordan Williams into third place in scoring last evening as well.  It is also worth noting that Duke scores ten more points a game than any other conference team.
Duke's next contest is indeed a "trap game."  Florida State is coming off a road loss to but they are 1-1 overall and tough when they play at home.  The Seminoles are long and athletic and they struggle at times scoring the ball, but they get pumped up when Duke comes to town, especially when they're the defending national champions and number one ranked team in America.  At 15-0 and atop the polls, Duke will get every team's best shot. 
Duke had two prospects at last nights game, one being junior Alex Murphy a wing forward who is ranked in most top ten lists for his class.  Jabari Parker, a 2013 budding front court player.  For more on Duke Basketball Recruiting, join BDN Premium for the latest.
The odds on favorite to win the Heisman Trophy next season in college football will be Stanford's Andrew Luck.  It's rare that a possible first pick in the NFL Draft opts to return.  Duke Football will take on the Cardinal next season in Wallace Wade Stadium, so you will get a chance to see him go up against Sean Renfree and the Blue Devils.  As for Luck, turning down 5o million with a new agreement being reached on rookie salaries going into place the following year, this situation  is something he might consider revisiting.  Meanwhile the struggling Carolina Panthers await and one has to think San Francisco may negotiate a trade with Jim Harbaugh at the helm.
Check out the Duke Blue Devils Women's Basketball team, which is ranked #3 in the nation!  Coach P's gals have avoided nobody with a tough early season schedule yet they remain undefeated.  Duke is still a work in progress as the entire team is getting minutes thus far.  Of those players, many are very young and that bodes well in the future as does a stellar class coming in to join them next season.  That said, all I have left to say is Jasmine Thomas is a gamer, worthy of the name Ms. Clutch.
Bookmark Blue Devil Nation as we follow the Duke beat all season long and thanks for supporting our site.