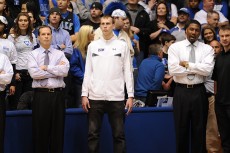 DURHAM - The Duke Blue Devils hosted Alex Murphy, one of the nations elite prospects during last evenings Maryland game.   Murphy is near 6-8 and is projected as a wing or big forward and is ranked the 6th best player in his class by Prep Stars. He plays his high school basketball for St. Mark's in Southborough, MA and suits up for New England Playaz in AAU ball.
Murphy remained on campus today in order to get a better feel for the school and program.  Duke Assistant Coach Chris Collins is the lead assistant for Murphy and that means he's playing a big role in the process.  Collins was seen showing Murphy around last evening and answering questions during both re and post game.  Murphy was accompanied by his father, Jay, a former Boston College and NBA standout.
The two sat directly behind Coach Mike Krzyzewski on the Duke bench and were stoic for much of the game, but there were some positive reactions.  Those included a father and son look at one another when Cameron got really loud after a Kyle Singler play.
They also cheered as the game got tight and Duke mounted a comeback, with Murphy fist pumping and clapping more a the game wore on.  Murphy was joined by 2013 prospect Jabari Parker who was hosted and shown about by Duke Assistant Coach, Nate James.
The Cameron Crazies twice cheered "Alex Murphy, come to Duke," and that brought a smile and look from Murphy.
Early returns are that both visits went well.  For more details on the recruiting front, join BDN Premium and we'll keep you in the loop.  Once a member, you can discuss the latest happenings with fellow members on our private message board.  And you will certainly like the changes we have in store for the site, not to mention some coverage this coming week that is sure to make for a happy member.