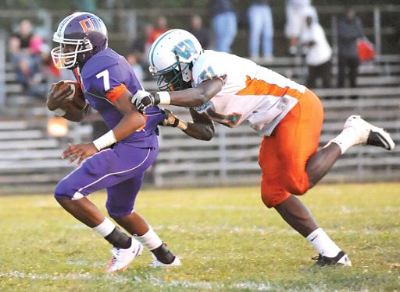 Head Coach David Cutcliffe and the Blue Devils will welcome one new member to the 2011 roster this spring in Jon Woodruff, a 6'3" 215 pound linebacker from the state of Maryland. Woodruff will enroll in Duke this month, coming off a senior season this past fall that earned him 1st team All-Southern Maryland Athletic Conference and 2nd team All-State honors. Playing for Westlake High School in Waldorf, MD, Woodruff recorded 36 tackles, 10 sacks, 2 fumble recoveries (1 for a touchdown), and a safety; the Wolverines finished the season 9-2 overall and 7-1 in their conference. Jon committed to the Blue Devils after attending a camp in Durham last June, where he ran the 40 in 4.6 seconds. BDN checked in with Jon before he heads to Durham for the spring semester.
BDN: Can you tell our members a little bit about your decision to commit to Duke?
I really decided to come to Duke because of the education and because I want to be a part of an up and coming football program. I've been talking to the coaches and they have a lot of big plans for what they're going to be doing with the team, so I want to be a part of that right now while it's starting.
BDN: You played mostly defensive line this year in high school; can you talk about what you expect your role to be at Duke?
They want me to play outside linebacker, so I'm going to have to adjust from a 3 point stance to standing up in the open field, so it's going to be a change, but I expect it to be an easy one.
BDN: How much were you able to follow Duke's season and what are your thoughts on the Duke team?
I was able to watch most of the games and I thought they way they played – they played a faster pace and they don't quit. They play all four quarters.
BDN: Based on what you were able to see of the Duke team this year, what are you hoping to bring to the team when you get on campus?
I think I'm going to bring a little bit more speed to the defense.
BDN: It looks like you had a great senior year at Westlake, both as a team and individually. What were your thoughts on how your senior year went?
I think the year went pretty well for the whole team. I did good personally, and we could have done better, but everything happens for a reason.
BDN: I know you haven't had a lot of time off, but what have you been working on as you prepare to get on campus at Duke?
I've been running and just doing pushups. When I can lift, I lift whenever it's available for me.
BDN: Thanks so much, Jon. Best of luck at Duke.
Alright, no problem.