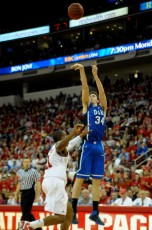 WINSTON SALEM, NC - All players strive for perfection and the Blue Devil's Ryan Kelly has darn near achieved that in his past two games.  Today, Kelly dropped a career high 20 points on 6 of 6 shooting, and 4 of those were three point shots in Duke's 83-59 win over Wake Forest.
This past Wednesday, a single free throw kept him from perfection at N.C. State where he was 4 of 4 from the field to go with 8 rebounds, 1 steal and 2 blocked shots.  His totals for the last two games you ask?  Kelly has gone 10 for 10 from the field, 8 of 8 from the three point stripe, grabbed 14 rebounds, has 3 blocks, 3 assists and 4 steals.
Senior Duke star Kyle Singler said, "He's not really an athletic guy but he's long and he's able to make plays.  He just knows how to play the game and to have a guy like that on your team is a good thing and it's a big help for us of late.  He plays hard and spreads the floor for us on the offensive end and if left open he can really hurt you."
Duke has needed a third player to become a consistent offensive weapon and Kelly for now fits the bill.  When asked whether he could be the third option, Kelly told BDN, "I'll do whatever coach wants of me.  Today, on offense, I was getting open shots and they were falling."
In the post game, Coach Krzyzewski had this to say about Kelly, "He's just been good the whole season and since ACC play, he's gotten better every game.  He's a very reliable player, he doesn't get flustered and he knows where he is suppose to be on the court.  He's become more aggressive with his shot in the last week or so and that's where we want him to be.  He's a really good shooter and we want him to take it."
Kelly's last game was in front of his hometown folks in Raleigh and his play against a Pack team with their ears pinned back, helped Duke to a road win.  The Duke sophomore was happy to see he had recognition after that game and he's never at a loss for words when the media comes his way and that's something he clearly wants more of.
"I'm just working  hard before and after practice and have confidence.  And my teammates are finding me when I'm open and in the last couple of games I am knocking them down and if I continue to do that everything will fall into place." stated Kelly in the Duke locker room.
His recent success is making Duke fans forget his struggles with his shot just a few weeks ago, where the three ball just wasn't falling.    "It's mainly concentration and earlier this season I wasn't where I wanted to be but Coach Wojo has been working with me whether it be after practice, be it rebounding strong or going for balls and that's helped immensely."
Kelly is also starting to shoot the three ball at Duke more so than he did in high school.  "In high school I was bigger than most kids I played but was skinny.  Now that I have gotten to college, I've been asked to do certain things that have become a part of my skill set but I have to continue to get better.  I'm confident every shot I take is going in."
When I approached Kelly in the locker room today, he was slated to do the post game show with Bob Harris which more or less means he was the player of the game.  He gave a little laugh and lit up when I said, "Man, you had pretty much a perfect game."  Kelly, like most kids loves his chance to be in the limelight and when you do that at Duke, a true basketball school, it's likely even more satisfying for the whole nation knows of your exploits.
With more tough games ahead in conference play and a road game at St. John's, it would be nice  for Duke if Kelly stays consistent with his play on a team that needs other players not named Kyle Singler and Nolan Smith to step up.   "When I have an opening on offense I know my teammates and coaches are confident in me knocking them down.  I did tonight and that was always a good feeling."
You can bet that Kelly will continue to get the ball from his teammates provided he keeps nailing his shots and according to Krzyzewski, he expects even more from Kelly, stating to the media  "I think you'll see shot fakes and moves to the whole for he has good balance.  He's not a great jumping athlete but he's a player."
I asked Kelly how he could build on and continue his play of late and he exclaimed, "Just stay confident.  I'm not going to go 6 for 6 every game but I'll come to work and stay hungry and good things will happen."